Christopher Robin (2018)
Ewan McGregor, Hayley Atwell, Jim Cummings, Brad Garrett. Written by Alex Ross Perry and Allison Schroeder. Directed by Marc Forster.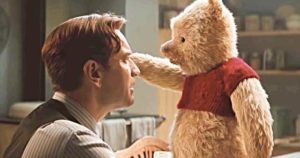 It's been thirty years since Christopher Robin last visited the Hundred Acre Wood, and he is sorely missed by its denizens. He's a man now, with a career as an efficiency manager for a luggage company in post-WWII London. He has a wife and a daughter, and if he ever thinks of his friends Pooh and Piglet, you wouldn't be able to tell.
Christopher Robin is unhappy, despite a lovely family and a good job. His job is draining him, and his sense of duty has removed the joy from his family life.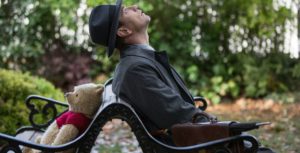 Since Christopher Robin will not visit the Hundred Acre Wood, which has always been there for him, Winnie-the-Pooh comes looking for Christopher Robin, stumbling into London through the door where they used to meet.
The rest alternates from magically, nostalgically unexpected to disappointingly cliche. By the time it becomes the latter, however, some viewers will have bought into the whole thing. That's what happened to me. Although I wasn't once tempted to say "Awwwwww" the way everyone in the row behind me did several times, I admit to a few teary moments. Christopher Robin runs 104 minutes, and about 80 of them are quite sad.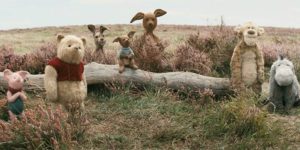 Ewan McGregor is perfectly cast as middle-aged Christopher Robin, reminding me at times of his wonderful Alfred Jones character in Salmon Fishing in the Yemen, only not as funny. Brad Garrett seems like a no-brainer to voice Eeyore (my favorite), but he's kind of distractingly recognizable as Brad Garrett most of the time. Young people will probably not have this issue, as Everybody Loves Raymond has been off the air for thirteen years.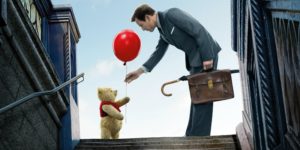 Another excellent decision was to represent the animal characters based on the original drawings by E. H. Shepard in the books, rather than on the Disney cartoons that have replaced them in many of our minds. However the animators managed to put these characters on the screen, the animals seem pretty real to me throughout the film, in both their and Christopher Robin's realities. Which is rather perfect.

Although I admit I found most of the third act disappointing, I cannot deny the emotional effect the very existence of this film had on me, an enormous fan of the books by A. A. Milne. I did not have these books read to me as a child, and I came to them rather late, beginning in sixth grade and finishing in seventh. I don't know what drew me to them then, but I hold tightly to them today for their utter lack of cynicism, for their pureness of spirit, and for their steadfast belief in the virtues of kindness, curiosity, imagination, and the specialness of certain relationships.
In a time where certain forces seem determined to erode my confidence in foundational institutions of government, religion, and culture, I'm willing to believe, at least for 104 minutes, that "wherever they go, and whatever happens to them on the way, in that enchanted place on the top of the Forest, a little boy and his Bear will always be playing."
Small point deduction for not including some variation of that quote somewhere in the film.
8/10
80/100