The Wife (2018)
Glenn Close, Jonathan Pryce, Christian Slater. Written by Jane Anderson. Directed by Björn Runge.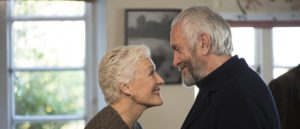 At first I didn't quite see what the critics were reporting, that Glenn Close's performance in The Wife was sure to earn her a nomination for a Best Actress Oscar. Close is pretty much always very good, and this role of Joan Castleman didn't seem to stretch her at all. Sure, there are some pretty fiery moments where Joan and her husband Joe Castleman argue almost to the point of throwing blows or objects, but this stuff is a cakewalk to someone of Close's talent.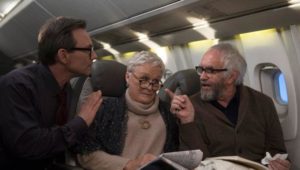 Then there's the last act of the film, where Joan's barely controlled fury threatens to blow everything in the room to pieces, and it's an amazing thing to witness. She is certain to be nominated for best actress, and she's going to be among the favorites to win.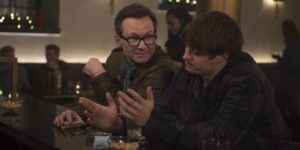 Joe is informed in the first scene that he is this year's winner of the Nobel Prize for Literature. The movie then alternates between its present day and the early days of the Castlemans' relationship. This is a movie about Joan's role in Joe's literary career, which includes the raising of two children—a well-adjusted adult daughter and a troubled adult son, who accompanies his parents to Stockholm for the awards ceremony.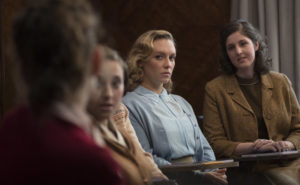 It's a pretty good story, but the reason to see it is the acting, which is excellent without being especially pyrotechnic. I was really pleased to see Christian Slater as a wanna-be biographer tailing the Castlemans despite their open dislike of him. Slater brings his slimiest best, all the sneaky, sleazy acting that made him a Gen X icon, minus the rebellious self-righteousness. I won't be surprised if there's some supporting actor love for him at Oscar time.
Close's real-life daughter Annie Stark is a nice discovery as young Joan.
I'm giving it a few extra points for being a literary-themed movie, one of my admitted biases. Worth a look even if it's not one of yours.
8/10
80/100