Tully (2018)
Charlize Theron, Mackenzie Davis, Ron Livingston, Mark Duplass. Written by Diablo Cody. Directed by Jason Reitman.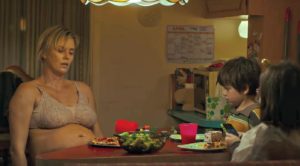 Sometimes a movie must be reviewed for how it addresses big, important issues, and the more the reviewer knows about these issues, the more credible the review.
I'm part of the intended audience who is completely unqualified to hold the film up against these big issues, so I cannot comment on how intelligently, fairly, accurately, or radically it faces them. But I am part of the intended audience, so I am qualified to respond to it as art, bringing what I bring — namely my maleness and my no-marriage-no-kids status.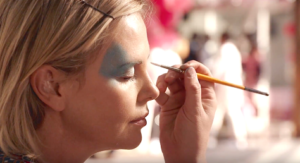 So this is how a middle-aged, never-married-never-had-kids man, knowing full well he will never relate to a huge chunk of the art's purpose, receives Tully, a movie about a middle-aged woman dealing with post-childbirth life as a mother and wife.
When a writer, director, and actor attempt to create something that doesn't look or feel like everything else, it can be as wonderfully original and satisfying as Juno or as uneven as Young Adult. Tully is somewhere between them, much closer to Young Adult in edginess and mood.
Charlize Theron is excellent as Marlo, a middle-aged mother of three dealing with the pressures of perceived good parenting, at times (and in retrospect) stunning. It's too early in the year to say this, but she should be considered for a Best Actress Oscar at year's end. She makes it easy for the other actors, although Mackenzie Davis as her "night nanny" Tully is really good too.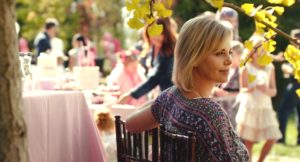 Tully's job is to take care of Marlo's newborn at night, waking Marlo for feedings but otherwise leaving her to sleep while Tully takes care of changing the baby, cleaning up after the baby, and rocking the baby to sleep. The extra rest does wonders for Marlo, who suddenly has time and energy to do many of the good-mommy things she feels she's neglected lately, like preparing family meals that don't come out of the freezer.
More than the extra rest, Tully provides companionship and understanding, an incredible source of sympathy Marlo has been lacking. Marlo finds a listening ear and wise counsel about taking care of herself, her family, and her husband, whose love is not questionable but whose contribution to running the household is. In one unforgettable scene, Tully asks Marlo to open up about her sex life, and Marlo is inspired to get things in the bedroom heated up again.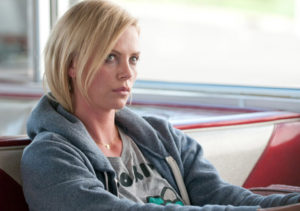 Marlo needs rest and time, but she also needs help, and she needs to be healthy in mind and body. Tully makes it all possible, and Marlo's reemergence is lovely to see.
But the movie is about something else, something best left to the viewer to realize. I offer a trigger warning for anyone sensitive to issues of postpartum depression. If there's any question, read a spoiler review, of which several can easily be found. If not, see it for yourself and watch a movie start off about one thing but then become something else.
8/10
80/100