Fever Pitch (2005)
Drew Barrymore, Jimmy Fallon, Ione Skye. Written by Lowell Ganz and Babaloo Mandel. Directed by Peter Farrelly and Bobby Farrelly.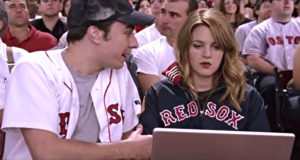 It's frustrating when a movie has the right pieces, a good concept, well-imagined characters, and a lazy script. Bill Simmons, perhaps America's most famous Red Sox fan, has famously said he hates Fever Pitch because Ben, the main character played by Jimmy Fallon, does something near the end that no Red Sox fan would ever do.
Simmons misses the point, because knowing that no Red Sox fan would ever do what Ben does is what supposedly makes his actions reflective of the change of heart he experiences, which of course results in our happily ever after. If this were a sports movie, perhaps Simmons would have a good point, but even he says that this is no baseball movie. This, he insists, is a chick flick.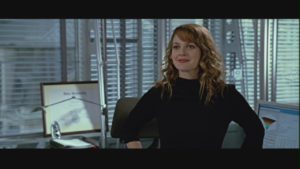 I'll see Simmons's insistance and raise him one more: not only is this not a baseball movie, but neither is it a romantic comedy. Oh, it wants to be a romantic comedy, but Ben's transformation is so lazily handled that it's more magic than romance. It tries to be a romantic comedy, but it avoids the messiness of two people working through something real and complicated, leaving us instead with an eye-opening moment for Lindsey, the main character played by Drew Barrymore.
Perhaps the writers think they're doing something clever by focusing the pit-of-despair moments on Ben, but Ben is mostly the culprit here. Yes, we should see him wallow, but what's Lindsey going through while it's happening? We don't see that she's miserable, lonely, stuck with some a-hole of a new guy, or in any way struggling with the tension central to the movie's plot. How does a relationship work out when one person is married to her work and the other is married to a baseball team?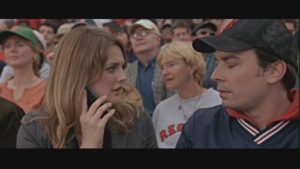 "You have always loved the Red Sox," says one character to Ben, "but have the Red Sox ever loved you back?" It's wisdom, but it's not the kind of wisdom that should open up the clouds so sunbeams can fall only on Ben, because we've already seen what Ben gets out of his fandom: some really good stuff, stuff that Lindsey knows is important.
The film avoids dealing with this conflict, and while I can totally be here for two people saying, "We have a huge problem but we love each other enough to deal with it," why not deal with it in the movie? In even a bad romantic comedy, some kind of relationship figuring-out should happen, but we get none of it. It's a real shame, because the film does a really, really good job of setting up and executing Lindsey's heartbreak. Yet we get nothing of her recovery: it's all just magic, and this is why Fever Pitch is neither baseball film nor romantic comedy, but romance flick of the annoying kind.
Ben is a high-school teacher. Lindsey is an executive of some undefined, generic sort. They are adorable together. Early scenes where they get to know each other make you think you're seeing a very good film. In the first two-thirds of the film, I love just about every scene they're in together and dislike almost every scene where they're with their respective groups of friends. But this is winter Ben. Summer Ben is a different creature, which he is honest about just before summer Ben awakens from hibernation.
So far so good! This could work! At first, it does. Then the level of Ben's fanaticism really does become a problem, as it should, and the relationship believably comes crashing down until it's rock bottom for Ben and who knows what for Lindsey?
If a movie has a bad setup but a great finish, you can split the difference and give it an average rating. If it goes the other way, with a great setup and terrible finish, you have to slide it toward the neg. There's a reason Reggie Jackson was Mr. October, and there's a reason George Steinbrenner called Dave Winfield Mr. May. Fever Pitch is no Reggie Jackson.
4/10
46/100