The Happytime Murders (2018)
Melissa McCarthy, Maya Rudolph, Joel McHale, Elizabeth Banks, Bill Barretta, Dorien Davies. Written by Todd Berger. Directed by Brian Henson.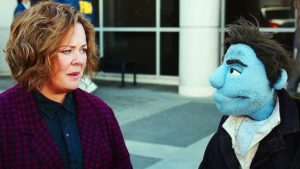 Picture a world like the one in Who Framed Roger Rabbit? but instead of humans and toons, the world is cohabited by humans and puppets with serious discrimination against puppets. This is the world in which The Happytime Murders is set, only instead of some made-up town, we are right in Los Angeles with all its glamour and sleaze.
Mostly sleaze.
And instead of playing pattycake, the characters have all manner of strange methods for pleasing each other, not to mention all manner of bodily fluids spewing everywhere.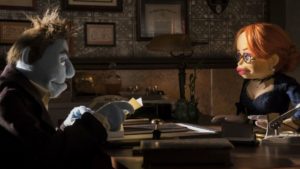 Phil Phillips was once the first puppet in the L.A. Police Department, but an error in judgment got him fired, and now he's a private investigator specializing in wrongs done by humans against puppets. A hard-boiled Philip Marlowe type, Phil is lonely and apparently haunted by demons we don't discover until we're knee-deep in the plot. And Silly String.
Some high-profile people and puppets are murdered in what appear to be related crimes, so Phil's former chief of police deputizes Phil and assigns him to his former partner, a human played by Melissa McCarthy.
If this same movie were cast entirely with humans and no other changes, it would probably be a hard NC-17, but you can get away with a lot more when half the characters are puppets (performed by Jim Henson's Muppets). Members of the creative team clearly asked themselves what puppets were physically capable of as well as what puppets could get away with in a movie, and pushed right up against the line.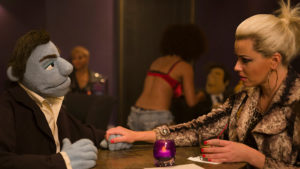 So it's a fun, creative, raunchy-as-heck movie and I appreciated it for these reasons. Phil is a loveable, beat-down character it's hard not to like, and McCarthy does what she usually does very well: play crass while remaining vulnerably human. It mostly works.
Where it falls short is in its plot. It's okay that it's not very twisted or complicated, but it begins to get dreary and barely interesting about two-thirds of the way through, and the resolution feels strangely dark, like those Dirty Harry movies where the bad guys are dead and the good guy is alive, but yuck. You need a shower.
I discovered the day after I saw this film that I laughed a lot harder telling someone else what's in it than I did actually watching it. It appears to be hilarious in concept and even execution while awkward or grim in performance. Or something like that.
Even now, I think about an octopus and a cow (all those arms; all those teats) and I laugh aloud. I didn't laugh aloud when it played out in front of me.
Totally worth a free stream but I wouldn't recommend paying movie theater prices for this.  And keep the kids away!
5/10
55/100