Ocean's 8 (2018)
Sandra Bullock, Cate Blanchett, Anne Hathaway, Mindy Kaling, Sarah Paulson, Awkwafina, Rihanna, Helena Bonham Carter. Written by Gary Ross and Olivia Milch. Directed by Gary Ross.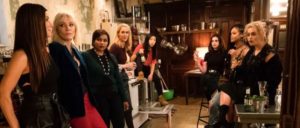 Debbie Ocean has had five years (in prison) to plan a heist involving the Met Gala, a $150 million diamond necklace, seven other women of questionable ethics but unquestioned skill, and maybe the guy responsible for her being locked up all those years ago.
It's a heist flick and it's meant to connect to the Clooney-Pitt Ocean's films, and while it's not as good as Ocean's 11, it's at least as interesting as Ocean's 12. Sandra Bullock and Cate Blanchett are great together and I would like to see them together in something else. Rihanna holds the screen surprisingly well and is the pleasant surprise of this movie. Anne Hathaway really shines, and almost steal the movie, which leads me to ask once again why people hate her. She's luminous.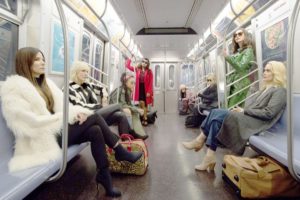 My biggest problem with the movie is that we don't really get to know much about the other characters, and since they're also played by interesting actresses, this is a disappointment. Is it possible to have a good heist movie that also develops its characters well? I wanted to know more about Sarah Paulson's character especially, but Mindy Kaling's and Awkwafina's could also have used some development. I feel mildly ripped off.
Ocean's 8 is notable for starring a large cast of women actors, something one just doesn't see enough of. A similar cast of only men actors would come and go without comment, which says something about the importance of more films of this sort. As of today, the film has grossed $117 million worldwide against a production budget of $70 million, which would seem to indicate that there is a market for this kind of thing.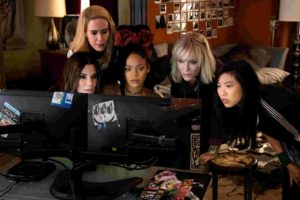 We should celebrate also that two of Debbie's eight accomplices are Asian, and there is no affirmative action in effect here: Mindy Kaling and Awkwafina have already proven their talent, so no excuses need to be made by anyone. If anything, perhaps a few apologies should be sent their way for taking so dang long.
The story works if you sit back and just go along with it. Get too invested in expected twists or unexpected turns, and you may feel like you paid $15 for a $5 ride. Recommended for streaming, but maybe not for box officing.
6/10
67/100