A Star is Born (1954)
Judy Garland, James Mason. Written by Moss Hart. Directed by George Cukor.

Esther Blodgett is a singer in a band when she meets Norman Maine, a Hollywood star at the very beginning of his career's decline. Although this 1954 version is my least favorite of the four A Star is Born films, Esther and Norman's meeting in this one is the best. Norman's drunk when he wanders onto a stage where Esther and her band are performing. Rather than let Norman be embarrassed, Esther quickly incorporates him into the act, as if he were part of the show.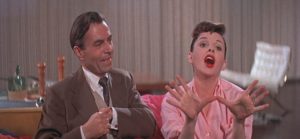 It's an immediate display of grace, sensitivity, talent, smarts, and self-assuredness that characterizes Esther throughout the film. If only such economy in development could be employed the rest of the way.
Instead, we get a three-hour marathon that's alternately engaging and sloggy. Everything we love about younger Judy Garland is right here, as if the film were written about her, and everything some of us (me) hate about 1950s movie musicals and their showtunes is right here as well, in overwrought, boring excess.

Take out most of the songs, and the film would be a pleasant length, but the filmmakers are determined to make it a comeback tour de force for Garland, who'd been out of movies for four years following the end of her time with MGM.
I'm grateful that this movie holds true to the original in one very important aspect of Esther's career. Although Norman cracks the door open for Esther's chance in the movies, Esther kicks it down with her talent, charm, and niceness. She's pretty, but she's not that pretty, just like the first Esther Blodgett. Some guy who has the hots for her does her a favor, but Esther makes Esther. It's the best thing about the film.
When Esther's first major film premieres for the Hollywood VIPs, we're treated not only to a few minutes, but what feels like practically the entire movie. It's misery.
Esther's career is on the rise, while Norman's is on a self-destructive path downward. It's just as interesting as the original except that James Mason's Norman Maine is not nearly as likeable as Fredric March's and there's really very little romantic chemistry between Garland and Mason. They're much better and much more believable as best friends.
Could have been a great movie if not for all those songs!
6/10
61/100