Come Back to the Five and Dime, Jimmy Dean, Jimmy Dean (1982)
Sandy Dennis, Cher, Karen Black, Sudie Bond, Kathy Bates, Mark Patton. Written by Ed Graczyk. Directed by Robert Altman.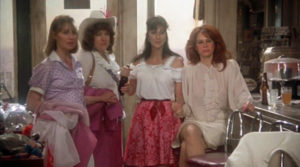 It's September 30, 1975 in a small Texas town not far from where James Dean once filmed Giant, and it's the twenty-year anniversary of Dean's death in a car accident. The all-female James Dean fan club in this town reunites in the old Woolworth's store where they used to meet. Some have been in regular contact, while others haven't been seen in a very long time.
It's a great setup, and the title all by itself demands at least one viewing, no matter what the film is about.
At first, it's pretty impressive. The acting and actors are interesting, with Cher reminding you first that she's far too talented for her smallish filmography, then Sandy Dennis and Kathy Bates sending you to IMDb to see what else they were in. Seriously, Altman does a really good job of framing the characters and actors in a way that really gets you involved.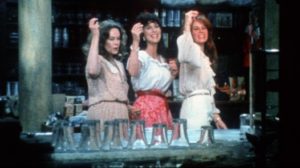 The narrative switches between 1975 and 1955, with Altman using a mirror and some camera tricks to indicate the time segues. At first it's a neat effect, but it becomes tiresome about midway through. The entire film does the same thing. What starts as a bunch of interesting characters and impressive acting becomes a your-turn-my-turn exchange of revelations and overwrought delivery that might have played well on stage but is exhausting on screen. After the first ninety minutes, I just wanted it to end already.
I'll say one thing that surprised me was Mark Patton as Joe, a homosexual friend of the James Dean Disciples in 1955. Patton is the star of A Nightmare on Elm Street 2: Freddy's Revenge, and the reason I was spurred to finally seeing this film. Patton is gay, and that second Freddy Krueger film has all kinds of homosexual subtext, and the actor's career is a really interesting story. Turns out the guy's a pretty good actor. At least in the first half of this movie.
While I admire Cher enough to see just about anything she's in, this is not the best example of her work. Or anyone else's.
48/100
4/10