The Usual Suspects (1995)
Stephen Baldwin, Gabriel Byrne, Chazz Palminteri, Kevin Pollak, Pete Postlethwaite, Kevin Spacey, Suzy Amis, Benicio del Toro, Giancarlo Esposito. Written by Christopher McQuarrie. Directed by Bryan Singer.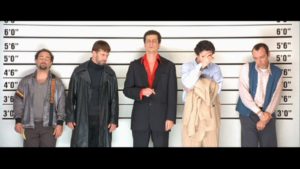 A friend gave me a terrific day-by-day movie quotes calendar, one of the rare such calendars that you don't fall behind on, because you really can't wait to see what the next cool quote is going to be, unlike those word-of-the-day calendars which you always lose interest in because you can't remember yesterday's word so what's the point in looking forward to tomorrow's, or tearing off the last six weeks' worth of days just to find out what today's is?
On Monday, May 14, I shared on Facebook a photo of the May 12/13 quote: "I volunteer as tribute" from The Hunger Games (a movie I like based on a novel I love). I explained that the Monday quote was from a movie I hadn't seen, The Usual Suspects.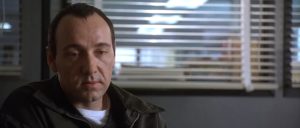 Yeesh. You'd think I'd said I hadn't seen The Sound of Music (which I haven't). My friends seemed genuinely concerned. "You must see it!" many commented. Since I work on a university campus and have borrowing privileges, I borrowed the DVD that very afternoon and told everyone to cool it. I was finally going to see it.
The next day, I received two text messages from friends asking if I had righted the wrong. I hadn't, but I promised I'd do it that evening.
And I promise, it doesn't please me to say this, but the movie is just okay. I know. I'm sorry!
The film is something of a noir, and its dialogue is written in the noir style, which I really enjoyed. Five con artists are involved in a heist that turns out not to be what they thought they were signing up for, and lots of people die. I'm not spoiling anything because that's sort of the way the film opens.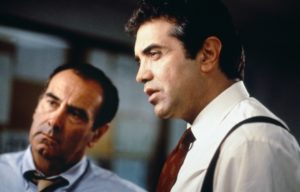 The characters are well-imagined and the dialogue is really great. Kevin Spacey provides some lovely voice-over narration reminding you that the joys of a good noir don't always emerge from the plot. Very often, it's the look and feel, the sound of the language, the feel of the shadows, the often unspoken emotions and unmentioned sexual tension that makes you stick with The Big Sleep even though you've watched it once a year since you were fourteen and still don't know what the story's about.
If these were the only things to consider, I'd rate this movie much higher; in fact, the middling score I'm giving it is really the average of these strengths against its major weakness, which is a plot hole I will spoil in the very last paragraph of this review, after my rating. It's a plot hole I can't just brush away, because it reduces all these other good ingredients to little more than a pretty good actor's workshop in movie character tropes and pretty good language. In other movies this can be more than enough to endear me. In this one, all it does is make me certain that my friends are going to disown me.
It's an okay film. Things about it are great. One thing about it is awful.
5/10
55/100
SPOILER COMMENT:
Even though I am an English major and should always be on guard, I sometimes forget about the device known as the unreliable narrator. This is not one of these times. Alerted by my friends that there was a twist, I predicted the twist very early in the film and was all but certain midway through. Kevin Spacey's character is about as unreliable a narrator as they come, something I noticed right away, so the moment of the reveal didn't leave me merely unsurprised, but annoyed. The truth of his identity means practically nothing in the movie actually happens. It may as well be the old waking-from-a-bad-dream reveal. If we can accept the reality that it was all just a really good story, this might make it all okay, except that despite its near-excellent language, the good story itself doesn't work, since we are privy to conversations and actions the storyteller would never have been aware of because he wasn't there. Imagine your kid telling you an elaborate lie about how the cookies disappeared, in which he says, "Before I came home, Sally told Betty that they could make it look like I ate the cookies." The lie is obvious because the storyteller can't possibly know what Sally or Betty said. Filmed a different way, where we only see everything through Verbal's eyes, his made-up story could at least be a fun gotcha! moment. As it is, it's just a movie where something happens but we don't know what.