White Boy Rick (2018)
Richie Merritt, Matthew McConaughey, Jennifer Jason Leigh, Brian Tyree Henry, Bruce Dern, Piper Laurie. Written by Andy Weiss, Logan Miller, and Noah Miller. Directed by Yann Demange.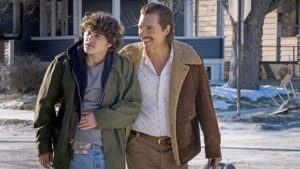 It's difficult to know how to feel about what happens to Rick Wershe, Jr. at the end of White Boy Rick, and this makes it difficult to decide how I feel about the movie. Do we care more about justice in the eyes of the law, or justice according to a sense of right and wrong, and how do Rick's choices stand up to either standard? If the film wants us to take a side, I can't tell which it is.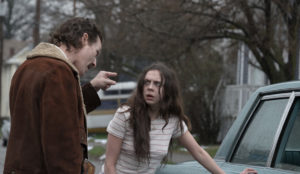 This makes me dissatisfied with the film, which is a disappointment because I like and care about this character, and Richie Merritt as White Boy Rick does a nice job playing him. Guided by a sense that life is ripping him off but feeling empowered to do something about it, Rick is suspicious of his father's optimistic outlook and unsure what to do about a junkie older sister whom he cares very deeply about.
Rick Sr. is a licensed gun dealer who operates outside the law. He's a smart, principled man who may have made a few mistakes as a younger man but who tries to do right for his family now. As role models go, one could probably find a lot worse in 1980s Detroit. Rick Jr. helps his dad with the business, gaining the friendship and trust of a local drug ring. When he's offered money by the FBI to inform on some of the neighborhood suppliers, he reluctantly accepts the gig, becoming (according to some of the film's publicity materials) the youngest FBI informant in history at age 14.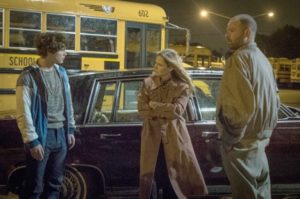 It's fairly easy to read Rick Sr.'s moral code, but Rick Jr.'s is still being formed. Which of his bad decisions are mere errors in judgment and which are dictated by a slightly skew sense of right and wrong? I'm okay with a movie whose position differs from mine on this, but the movie doesn't seem to take a position, taking some of the power out of some very good performances.
I've heard some critics say the McConaughssance is over, but the evidence here would suggest otherwise. It's a solid, sympathetic performance from McConaughey, and I also really like Jennifer Jason Leigh as Rick Jr.'s handler, Brian Tyree Henry (Paper Boy in the excellent FX series Atlanta) as a local Detroit police officer, and Taylour Paige as the wife of the leader of Rick Jr.'s drug-dealing friends.
This film came close to being good.
6/10
64/100