Juliet, Naked (2018)
Rose Byrne, Ethan Hawke, Chris O'Dowd, Megan Dodds.  Written by Tamara Jenkins, Jim Taylor, Phil Alden Robinson, and Evgenia Peretz (based on the novel by Nick Hornby).  Directed by Jesse Peretz.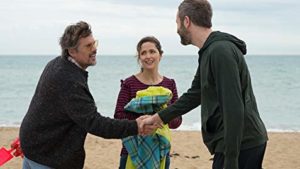 Tucker Crowe released one moderately successful album called Juliet and then disappeared.  Decades later, his fans dedicate their free time to deconstructing the album and speculating on Crowe's whereabouts in an online forum run by Duncan Thomson, a college lecturer in a small town in England.  Duncan's live-in girlfriend and the central character in Juliet, Naked is Annie Platt, the curator and director of the town's museum.
Juliet, Naked is the title of a new release of the classic album, but stripped down to its essential vocals and acoustic guitar, perhaps demo recordings of the songs before they were recorded and mixed for the final product.  It seems to appear out of nowhere, and of course the rabid fanbase is ecstatic.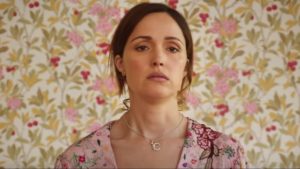 Annie is less so, and when she expresses her feelings about the album, she sets into motion a weird sequence of events leading to Annie's serious questioning about her life choices.  She knows exactly how she got to where she is, but is she satisfied? Is it too late for a redo on some of it?
It would be easy to call this film a romance, and there are romantic elements here.  Yet Annie's relationship with Duncan is only part of her reflection, merely representative of many choices she never pursued or opportunities she let go.  The possibility of a new relationship simply provides the catalyst for this self-evaluation.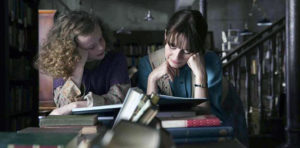 What I love most about Juliet, Naked besides Rose Byrne's excellent performance is how correspondence by email and in text messages with an unexpected friend forces Annie to articulate the specifics of her life and how she feels about them.  Annie deconstructs her relationship, her family, her job, and her small town in what becomes essentially a journal with an audience.
When Annie is finally ready to do or not do something about where she finds herself, it isn't because some guy walks into her life, or some other guy sees the error of his ways and redeems himself.  She makes her choices because self-examination empowers her.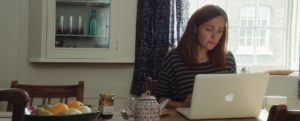 Ethan Hawke can be an annoying actor.  I find myself demanding he prove his sincerity with every performance, even in those great sequels to Before Sunrise.  Here is a film where he mostly wins me over (despite one suspiciously gratuitous piano performance), one of the best roles I've seen him in.  Byrne has what I think of as the Emily Blunt role, which used to be the Minnie Driver role, but she does it in the sweetest, most relatable way that makes me wish she had more starring vehicles.
My only real problem with the movie is the Nick Hornby effect.  I care about Annie and don't want her mixed up with any of the men in Nick Hornby stories.  Not John Cusack, not Hugh Grant, not Ethan Hawke, and certainly not Nick Hornby. None of these guys can be trusted, and I left the theater confident in Annie's ability to deal with whatever comes her way, but I don't want a Nick Hornby to be one of those things.
8/10
83/100