Deadpool 2 (2018)
Ryan Reynolds, Josh Brolin, Morena Baccarin, Julian Dennison, Zazie Beetz, T.J. Miller. Written by Rhett Reese, Paul Wernick, and Ryan Reynolds. Directed by David Leitch.

The problem with an unexpectedly good movie like Deadpool is that it creates fair but lofty kinds of expectation for its sequel. The first Ice Age and Shrek films did the same thing, and their follow-ups suffered for it.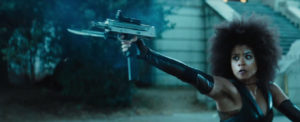 It isn't that Deadpool 2 is bad. It's just positioned to deliver more of the same: more cleverness, more irreverence, more vulgarity, more compassion for its main character, and more unexpectedness. Either that or it might have found new ways to be equally all these things. It's too much to ask, and this sequel isn't up to it.
It's still clever, irreverent, vulgar, compassionate toward its main character. It's just not unexpected, and it's not enough.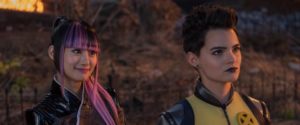 Even the structure of the film is pretty much the same. This is no origin story, but the movie opens in medias res, then flashes back, works its way forward and continues to the end. I guess if a thing works, you just do it again.
Colossus and Negasonic Teenage Warhead return, and they are joined by an interesting menagerie of mutants (including a few who've appeared in X-Men films) as Wade Wilson attempts to help a mutant boy manage his anger before he turns evil. It's best not to overthink it and just go along for the ride, which is fun, funny, entertaining, and even charming. Just not as much as the first movie.
7/10
68/100