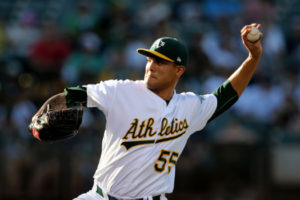 The Oakland Athletics beat the Baltimore Orioles Saturday, putting them one game over the .500 mark. I have a feeling that's the way the season's going to be. A few games over, a few games under, and hopefully a game or two over by season's end. It's a good team. It's just not good enough, and I don't think it's for lack of talent. I think the team just needs to play together for a full season. The same guys next year, I think, will be a contending team.
Lefty starter Sean Manaea pitched a no-hitter a couple of weekends ago and was the AL pitcher of the month for April. Jed Lowrie is among the AL leaders in RBI. They have a couple of great young hitters in Khris Davis, Matt Chapman, and Matt Olson. It's a fun team to follow.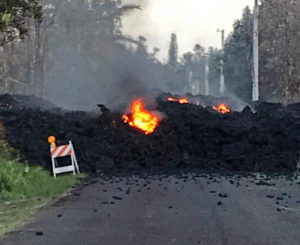 Lava is fountaining out of the streets in a neighborhood in the southeast section of Hawaii island. This volcano has been erupting for 35 years, and it has wiped out entire communities, beloved landmarks, and historic buildings. But that's been lava running down the slopes, creeping wherever it will, sometimes into the sea, sometimes over barren plains of hardened basalt, and sometimes right through neighborhoods.
This, however, is crazy and amazing. Fissures are opening up in neighborhood streets, and lava is shooting twenty feet into the air. It's literally awesome. Add the thunder-like explosion sounds as lava spews violently from the fissures and earthquakes with seemingly endless aftershocks, and it's all anyone around here can talk about. We're grown pretty jaded about lava, but none of us has ever seen this.
This planet is terrifying and beautiful.