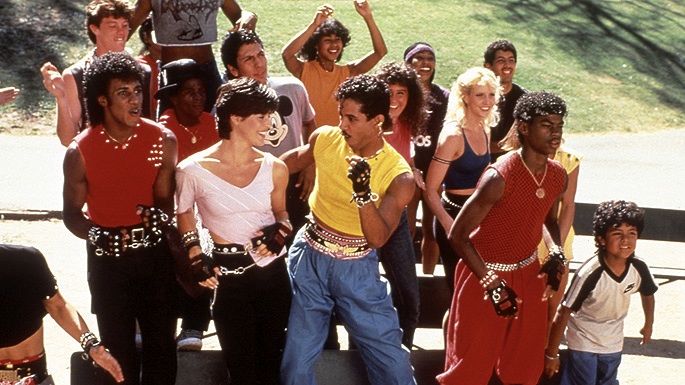 Breakin' 2: Electric Boogaloo (1984)
Lucinda Dickey, Adolfo "Shabba Doo" Quiñones, Michael "Boogaloo Shrimp" Chambers, Ice-T. Directed by Sam Firstenberg.
"The evil developers are going to tear down our community youth center. We need a whole lot of money to buy the property, or this is going to become a mall!" "I know! Let's put on a show to raise the funds!"
I try not to judge a movie for recycling this plot, not because it's not tired and cliche, but because I have to admit I've enjoyed it from time to time. Of course, I was fourteen, and the movies starred young Judy Garland and Mickey Rooney, but whatever. Maybe Breakin' 2: Electric Boogaloo is someone else's Babes on Broadway.
At first this film is exactly what I expected, a lot of bad dialogue constructed to tie the dance numbers together. Only it's worse, because the dance numbers are boring. But then, beginning about midway through, they get creative and interesting, including a fun number with dancing on the walls and ceiling, and a hospital number with brooms or mops (my memory's hazy and it was very late at night when I watched this).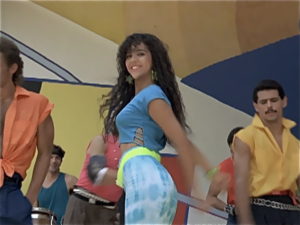 I found myself kind of liking most of the central characters, too, which I cannot explain, because they pretty much come right out of the stock characters assembly kit. Shout-out to Sabrina Garcia, who plays a Spanish-speaking love interest and is maybe the prettiest actress I've seen in any hip hop film, and I've seen Rae Dawn Chong in Beat Street. The music is unmemorable but after the first couple of numbers, it's not bad.
This is supposed to be the good movie in the Breakin' trilogy. Now I have to see how much worse the others could be.
Seriously, not a bad watch.
51/100
5/10