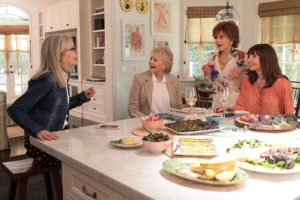 Book Club (2018)
Diane Keaton, Jane Fonda, Mary Steenburgen, Candice Bergen, Craig T. Nelson, Andy Garcia, Don Johnson, Wallace Shawn, Richard Dreyfuss, Alicia Silverstone, Ed Begley Jr.. Written by Bill Holderman and Erin Simms. Directed by Bill Holderman.
Four women who've been friends since college have now been a book club for more than thirty years. Diane Keaton, Jane Fonda, Mary Steenburgen, and Candice Bergen play Diane, Vivian, Carol, and Sharon.
Diane is a recently widowed mother of two adult daughters. She's going through some reidentification and is unsure of herself, but she's not nearly as disoriented as her daughters perceive.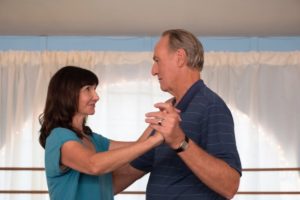 Vivian is a builder and owner of hotels, apparently a self-made business success who doesn't let relationships with men get too serious because they interfere with her independence.
Carol is an empty nester, married to a great guy (Craig T. Nelson) but unhappy with her nonexistent sex life.
Sharon is a judge, divorced for fifteen years. Her adult son is engaged, her ex-husband is dating a much younger woman, and she spends her evenings with a fluffy cat.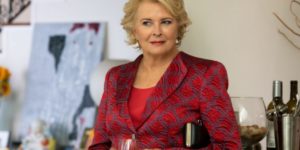 At one of the book club meetings one of the women passes around copies of 50 Shades of Grey, which draws complaints and derision from the group, but "bestsellers" is the club's theme this year, and so they give it a go. The novel inspires them to make a few changes to their love lives, each in her own way.
Some of the sequences are ridiculous, but I suspect we're meant to take the themes seriously but not the stories, and if you're capable of doing this, you'll find a few things to like here. I already have a Mary Steenburgen bias, so I love every scene she's in, pretty much. Of the four main characters, Candice Bergen's Sharon is perhaps the most interesting.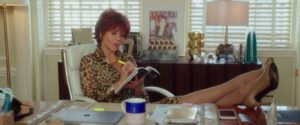 I was frustrated with Diane Keaton's character Diane, because she's forced to play a character who's nonassertive around her adult kids, a mode that doesn't suit the actress well at all. It isn't until nearly the end of the film where we see Keaton shine as an actress. I wished her story could have begun right there.
It's a harmless movie, but in this era of gigantic comic book superhero films, its existence and box office popularity feel important. Here are four celebrated actresses of proven competence, yet how often do we get to see them in starring roles anymore? The movie is worth seeing if only to send a message to Hollywood that there's a market here. Let's not waste good talent.
6/10
61/100