Blindspotting (2018)
Daveed Diggs, Rafael Casal, Janina Gavankar, Jasmine Cephas Jones, Tisha Campbell-Martin, Wayne Knight. Written by Daveed Diggs and Rafael Casal. Directed by Carlos Lopez Estrada.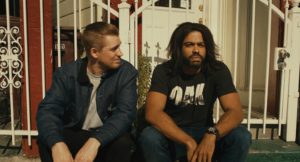 It would take longer to describe the plot of Blindspotting than I want to take, and anything I'd write might fail to convince you to see this movie, which is what I really want. The writers (who also star) try to do a lot with this story, most of it successfully, but the accomplishment isn't in the story; it's in the development of these characters toward a face-off over issues so layered that it takes all these plot elements to get us ready for it.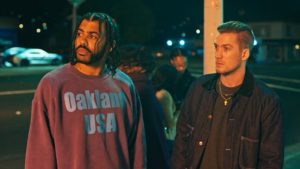 Daveed Diggs plays Collin, a late-20s black man living in a halfway house. He has three days left on his probation after a prison sentence. For three days, he must stay completely out of trouble, but there are pitfalls all over the place in his hometown of Oakland. It's tempting to think forces are amping up their game against him in these three days, but one gets the feeling after getting to know this man that it's not these three days: it's every day that a black man trying to stay clear must dodge problems.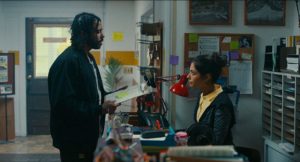 Collin's best friend since childhood is Miles, a white man who seems to think it necessary to prove in every waking moment that he's as street as any of the black men and women he's friends with. Miles doesn't just walk the line; he takes daily steps over it, I guess because he can.
Collin's loyalty to Miles may be wearing itself out, the way childhood friendship sometimes do, and it is the central tension in this film, but it's only one of many tensions. Oakland is having an identity crisis as hipsters gentrify formerly decrepit neighborhoods, and its longtime residents have mixed reactions to the transformation. Police officers and black men have the problems police officers and black men have in many other American cities. And Collin can't get his ex-girlfriend to warm up to him after his prison time.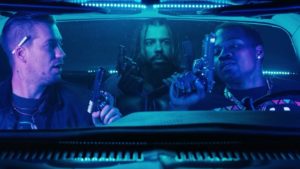 Blindspotting has a lot to say, and it brilliantly says most of it through the lives of these characters. This is when it works. Sometimes it says it through the mouths of the characters, almost in Greek chorus-like fashion, and here is where it doesn't quite work. I suspect there's a cultural barrier here for me, as the characters repeatedly break out into spoken-word, freestyle verse of the sort that some call slam poetry. When it's playful it's cute and clever. When it's dramatic, I have difficulty taking it seriously. And while I admire the device for its vision, creativity, and daring, it doesn't quite click things into place the way it wants.
As a result, the film has two climaxes, one that's amazing, moving, and beautiful, and one that's strange, awkward, and contrived. I'm grateful for them both. A fifty percent success rate when you're trying to do something nobody's ever seen in a movie is tremendous.
Excellent acting and great dialogue make it worth a look all by themselves, but there's so much more going on here, a reminder that people have a lot to say, and a reminder that film is one medium through which they can say it.
8/10
84/100