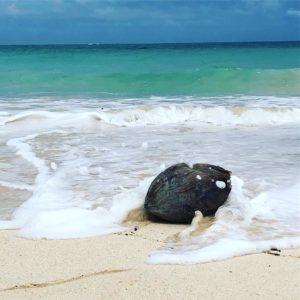 From here.
If you were to play hooky on your next regular work day with no negative consequences, and if you could only spend the day by yourself, what out-of-the-house fun activities would you pursue?
Well it happens that I took a vacation day today.  My brain's been a little fried at work lately, and I had a big deadline to take care of recently so I couldn't take a day off when I really needed it.  Then I got these wheels, but the weather's been terrible.  Even when the weather cleared up a bit, it was too soon after some serious rain, which means the near-shore waters were teeming with nasty little things that get washed out of the watersheds and down the streams into the Pacific.  It's part of living on a small island.  Thursday was the day.  Long enough from the big rain that the water was probably okay, and forecasted to be clear and sunny.  So first I slept in (that's not an out-of-the-house activity, but I needed it!) then went to Ala Moana for a swim.  It was wonderful and exhausting.  Then I drove counter-clockwise around the island to try out the new wheels.  Stopped at Waimanalo, my favorite beach, and sat in the sand for a little while, playing with the camera on my phone.  I had a feeling I wouldn't get to go in, and I was right.  Portuguese man o' war flags were up.  Then I stopped for brunch in Kailua at Boots & Kimo's.  Their famous macadamia nut pancakes never really did it for me, but this time I had the blueberry macadamia nut pancakes and *ding* we had a winner.  Delicious.  I was in need of a nap, so I found a shady spot in a park and slept about twenty minutes in my car.  It was warm.  The nap was partly to help me decide whether I wanted to continue around the island or call it a nice, fun day already.  I would have been fine going home, but I really wanted to get to the north shore and didn't see myself taking another day off in the near future.  The car handled wonderfully on the twisty road to the north shore.  It's pretty fun to drive.  Dinner at Romy's (I was the last customer before closing) was wonderful as always.  I continued through Kahuku and Waimea, then stopped at the beach in Haleiwa just to watch the ocean.  There were three young European women mimicking model poses in bikinis near a sand castle.  That was amusing for a while.  I stopped at a boba cafe (after filling the tank and getting a car wash) to get some work done and do this meme.  I'm really tired, in one of those good ways.  I keep looking at the time because I'm used to having to get the bus home.  It's preventing me from fully relaxing, but I imagine it won't be long before I get over that.
In the same situation, what stay-home fun activities would you pursue?
Definitely reading and watching some of the movies that have been piling up.  I'm midway through Penelope Fitzgerald's The Bookshop, on which a recent film is based.  The movie is rather wonderful (with one of my favorites, Bill Nighy the Acting Guy) and the book may be slightly better.  I still haven't watched any of those earlier A Star Is Born films, so I would work at least one of those in as well.  And napping!  Napping is fun when it's not escapist behavior, which for me it often is but wouldn't be this week.   I mean not totally.
If you played hooky specifically because someone else needed the time off, who in your life would be your accomplice and what would be first on the agenda?
I'm going to say Grace needs it the most, even though she's been only working part time.  She's working a new(ish) IT help desk job and she's been too tired to do anything fun.  Too tired to sit in a dark, air-conditioned movie theater, even.  Now that she has a co-worker I think she's not quite as tired, but she's still a good candidate.  So we'd see a movie and drive to a library and get lunch somewhere.  Grace collects visits to public libraries, and I know there are a few remote libraries she hasn't seen yet.  Waimanalo, maybe.  My friend Julie has a baby less than a year old.  If Grace begged out, Julie would probably be game.  I don't think I've ever been out with just Julie, though, so I might have to steal Suzanne or Cindy to come along.
When did you last visit a museum, and what item on exhibit impressed you?
I took the day off from work on my birthday in January and spent some time at the Hawaii State Art museum.  There was an interesting piece by a guy who graduated from my high school about ten years before me.
What's something you've recently gotten away with?
This is kind of a small thing, but between the evening when I purchased the new car and the time I registered it the next afternoon, I was driving an unregistered vehicle.  It would have been an uninsured vehicle too, but the guy I bought it from offered to keep it on his policy until mine kicked in at midnight the next day.