Bohemian Rhapsody (2018)
Rami Malek, Lucy Boynton, Gwilym Lee, Ben Hardy, Joe Mazzello, Tom Hollander, Mike Meyers, Priya Blackburn. Written by Anthony McCarten. Directed by Bryan Singer.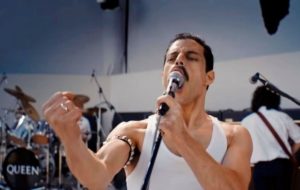 I had pretty low expectations going into Bohemian Rhapsody. I worried that it would overly prettify Queen's surviving members' stories or overly dramatize Freddy Mercury's sexual preferences and his related death. There was plenty of the former, and not too much of the latter, and since there's a decent amount of emphasis on the music itself, the movie feels pretty good.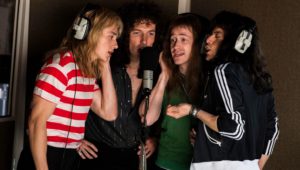 The movie follows the biopic formula, and I suppose that's a good thing. For those of us unfamiliar with the band's origins and its musical ambitions, it's enlightening to see how members of the band worked together to create the sound and feel of their music, how (for example) A Night at the Opera began with the concept of rock and roll performed with the scope, scale, and aspirations of opera, and how the band moved into a farm for the recording sessions.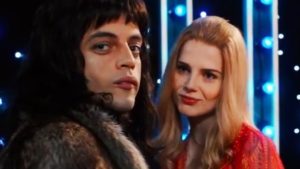 One recurring theme is that Queen was a band. In one early scene, an interviewer begins a question with, "As the leader of Queen—" only to be cut off quickly and sharply by Mercury, who insists, "I am not the leader of Queen; I am only the lead singer." Other scenes show individual creative contributions by bassist John Deacon, drummer Roger Taylor, and guitarist Brian May. For a rock and roll geek like me, this is the good stuff, if the content can be believed.
This is where I have my biggest issue. Some of the dialogue, especially in scenes where the band is talking about itself, feel like promo videos for Queen albums. Here's some made-up dialogue that's not in the movie, but it could very well have been.
May (to a record label executive): The first single must be "Bohemian Rhapsody."
Exec: The song is six minutes long! Radio won't play it!
Deacon: They'll play it because we're Queen.
Mercury: They'll play it because it's beautiful.
Taylor: And if you don't like it, we'll leave right now!
Mercury: And you'll forever be known as the guy who let Queen get away!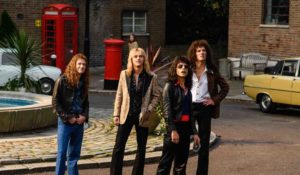 The band takes several such moments to demonstrate how rock and roll it was, how Queen wasn't just Freddie Mercury and some guys, and how its members always knew what they wanted. The overall feel is horribly manufactured as if to present Queen in its best possible light.
And that's not rock and roll at all.
My second-biggest issue is the issue I have with most musical biopics. There's just not enough of the band creating the music, and there's not enough of the band performing the music, although there's a good amount of the latter. Not once do we see the band perform a song in its entirety, not even the track whose title is the movie's. This is a crime. The film does get big points for showing us an enormous chunk of the Live Aid performance, but again: it would have been nice there to experience at least one whole song the way the audience experienced it.
That music, though, is as sweet as ever. If you love Queen, it's impossible not to leave feeling good.
69/100
7/10