Aquaman (2018)
Jason Momoa, Amber Heard, Willem Dafoe, Patrick Wilson, Dolph Lundgren, Yahya Abdul-Mateen II, Nicole Kidman. Written by David Leslie Johnson-McGoldrick and Will Beall. Directed by James Wan.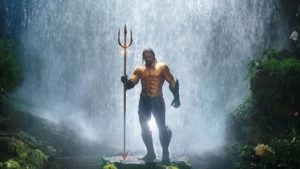 There was a point at which I almost said aloud, "This is completely ridiculous. How in the world am I supposed to believe any of it?"
Then in the very next second, I had a flash of some of my favorite movies, many of which would be unbelievable in any world outside the worlds created for them, for an audience ready to believe them. The Harry Potter movies, which I love, are in a fantastic world right against the real world. If I could accept the fantasy of Hogwarts, why not of Atlantis?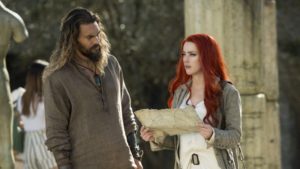 This is when my entire movie-watching self simply relaxed. I popped some Junior Mints into my mouth and eased comfortably into a world where a man speaks to fishes and his half-brother rides giant seahorses. Perhaps I'm ready to give The Shape of Water a try, now that I've seen and enjoyed Aquaman.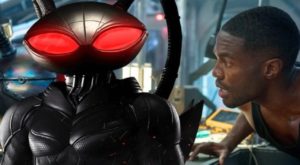 It's a big, dumb, super-enjoyable movie, kind of a refreshing break from the darkness and ponderousness of DC's recent films. Let Superman have his fortress of solitude and Batman his cave; Aquaman will do fine with a few enormous tankards of beer with his homies in the neighborhood bar.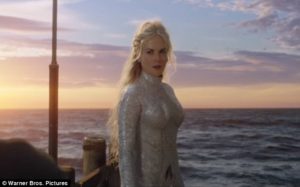 Arthur Curry (the alterego I didn't know Aquaman had) is the product of a romance between a lighthouse keeper in Maine and the queen of Atlantis. His half-brother, who sits on the throne in Atlantis, rallies the other undersea kingdoms for a war against the humans of the surface. To intervene, Aquaman must find the trident of his ancestor kings, so he might defeat his brother and claim his place as ruler of the sea.
Aided by Mera, a princess from another sea kingdom, and of course all the creatures of the sea, Aquaman chases the legend of the trident in something of a Temple-of-Doom manner. It's all rather predictable but getting there is entertaining. The acting is fine, highlighted by Nicole Kidman and Amber Heard. Jason Momoa as the prince of Atlantis is like a better-looking Thor with slightly less acting talent.
It works for me, and it pretty much accomplishes exactly what it intends: brain disengagement and an escape from the sad ruminations of daily living, and who couldn't use a bit of that?
7/10
70/100