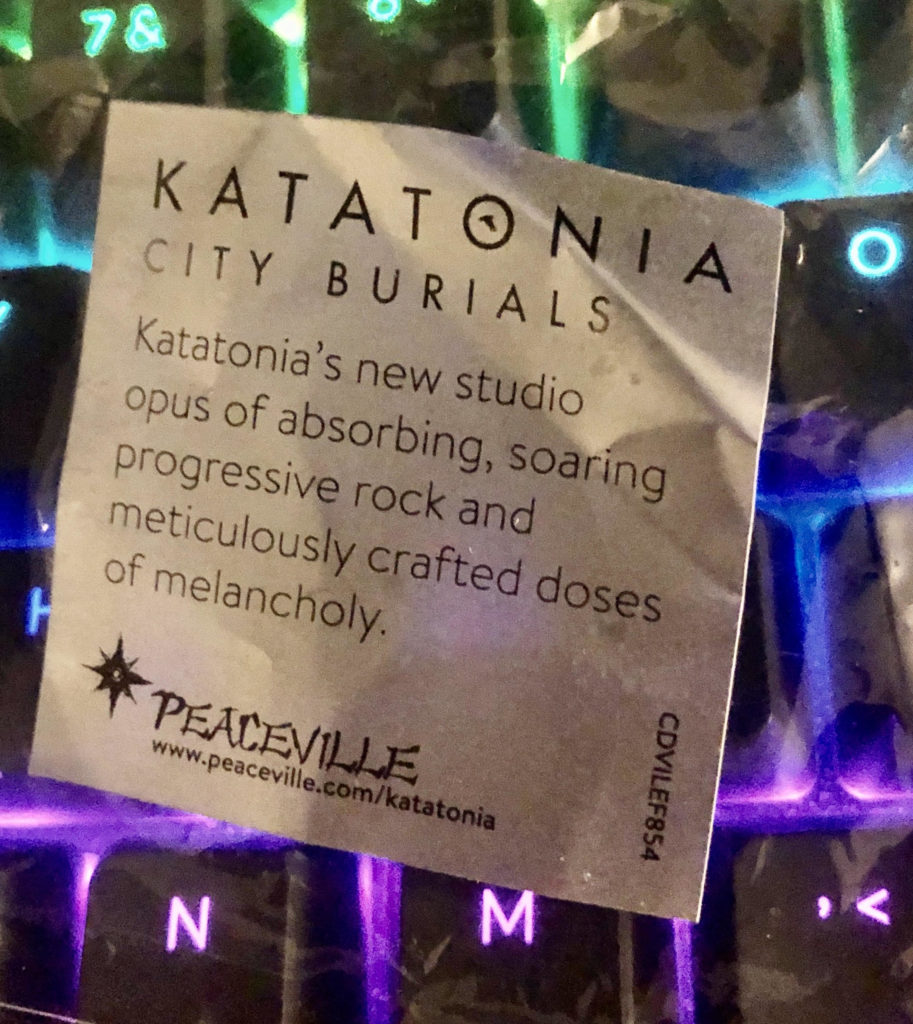 Interesting how once I identified it, it wasn't as bad. I mean, it's still kind of there; I just didn't indulge it, except for a 20-minute nap break after lunch, which I've taken most days anyway.
Today's nap didn't feel like the everyday naps — it felt like what it's been these past few days, that kind of gradual sinking into the quicksand of non-feeling. It's so tempting to stay there, but I resisted.
I'm turning in early in hopes of a quick swim Saturday morning. I know, I know. I hate the thought of all those people out there, but I can't keep putting this off. I need some ocean time and if I keep not going, I'm only going to keep feeling crappy.
In my ears: the new album from Axel Rudi Pell, Sign of the Times. It's big, dumb, arena rock, albeit with better than fair guitar chops. I've never been much of a fan, but I'm in the mood for new music that doesn't distract me from my writing. It seriously sounds like it came right off MTV circa 1985. Unchallenging and fun.
Work was okay. I chose a tedious, time-consuming task so I could do it with the TV on (Orange is the New Black season one disc 4). Also because I procrastinated on it until the day it was due. It took longer this time than usual. It's my monthly report, a kind of summary of the work I completed and the work in progress, divided into categories.
Took longer because it's also my monthly occasion for going through the previous month's emails to make sure I didn't let anything slip through the cracks. I did! Darn it. Two things, now re-added to my list. There are no one-on-one conversations in the office now, and everything is an email, and my emails for April were impressively numerous.
It also took longer because for some reason the list itself was long, as if I were busier in April than usual. I'm not buying it, but it's tough to argue with the list. I never pad that thing — in fact, I've often left things off that I thought made me look more productive than I was. I'm telling you, and I'm not being modest, that I do not think I worked that hard last month. Being productive was the hard work, but I don't think that translates to a longer list of stuff.
Anyway. I have stuff I'd like to get done this weekend again. Maybe this weekend I'll actually do it.
Breakfast was a bowl of cereal. Yesterday I wrote that I had Honey Bunches of Oats, forgetting that at the grocery store a week ago, I opted for the store-brand, discount equivalent. I noticed it too, before I remembered what I'd done. Still tasty, but not quite as tasty.
Lunch was turkey chili and hapa rice. Dinner was unintentionally tortilla chips and salsa. Meant it to be a snack but I just kinda kept going until I didn't care to have dinner anymore. I also finally got through the tiramisu Oreos, polishing off the last three sometime after lunch.
I'm skipping the walk this evening so I can get up early for the beach. If I get there as early as I expect, I'll walk before the swim, since I'll have to wait an hour for the dawn.
Around mid-morning, I called my mom and dad. They seem to be doing well. Still. I think they're encouraged by the low numbers of COVID-19 cases — we had zero new cases for the first time since they started testing, and planned to hit the Navy Exchange Saturday. I also made arrangements to visit Sunday for Mothers Day. I'm not going to hang out, just dropping off a gift at the front door for my dad to carry upstairs to the house. Then calling my mom on the phone from the driveway while she looks down from the lanai.
That's the plan anyway. Both parents said I was welcome to stay for a while, but I nixed that. I'm still not feeling safe, and I can't take the thought of contaminating them.
I also texted Ali in Boston, around my lunchtime, which is shortly after the end of her workday. For once, she responded right away and we actually had a meaningful conversation, although she (as usual) wasn't very expressive about whatever is going on in her life. She insists she's an open book but getting anything out of her most of the time is impossible.
Unless she's pissed. It's getting so I like it better when she's pissed, just because it means she opens up a little more. As long as I'm not the one she's pissed at.
Very late in the evening I texted Crush Girl to wish her a happy weekend. I didn't think I'd hear back from her but still wanted her to know I was thinking of her.
I think Saturday I'm going to get takeout for all three meals. Just feel a little like having someone else's cooking, even though I love this pot of chili I made.
My new Katatonia CD came in the mail this week. I imported into my iTunes. I was amused by the sticker on the shrink-wrap, which read, "Katatonia's new studio opus of absorbing, soaring progressive rock and meticulously crafted doses of melancholy."
Meticulously crafted doses of melancholy. That should either be my epitaph or the bio on my book jacket when I publish the Great American Novel someday. Also, it's a perfect description of the album, which like most of their stuff in recent years has been gorgeously moody.
Time to turn in. Reach out if you're needing someone to connect with. I'm right –> there.