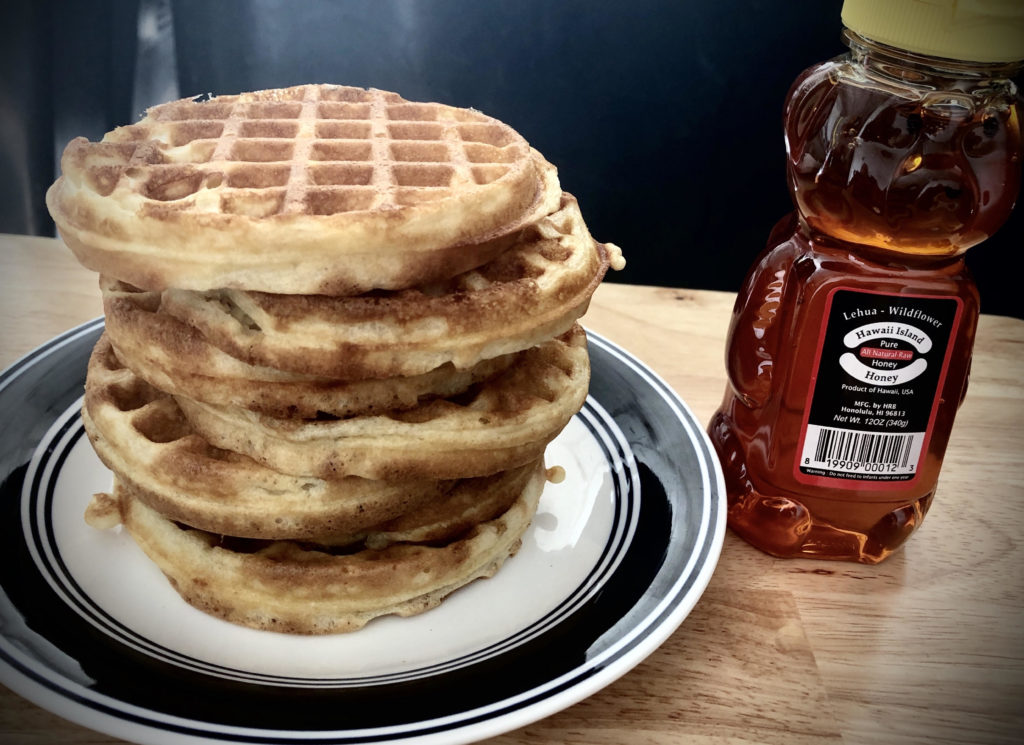 Two food adventures in my kitchen in two days.
Last week's episode of the Judge John Hodgman podcast included a bunch of talk about zapiekanka, a Polish open-faced sandwich the podcast participants compared to a pizza. It's a split baguette with (in order of closeness to the bread) sautéd sliced mushrooms, cheese, and ketchup. You put that stuff on and toast it.
Part of the conversation led J. Kenji Lopez-Alt (a guest on the podcast) to share that the French bread pizza was invented by students at Cornell. Because of course, it's going to be a college student or someone else making the most of limited resources to make something approximating a favorite food.
I wouldn't go so far as to call either a zapiekanka or French bread pizza poverty food, but it's sort of in that area, with mac & cheese or instant ramen. Is it a pizza? Not really. It comes close, though, and it could be delicious! I was obsessed with the concept of the zapiekanka and other explorations of pizza approximation with whatever you have in the house.
So Wednesday I finally gave it a try. Split a hoagie roll. Put some sautéd mushrooms down, some good sliced cheddar (my cheese stores are running low; I only have good stuff left right now), and a generous amount of ketchup. Into the toaster oven.
It was goooood. The hot ketchup actually works as a sauce. I made a second one, and in the spirit of using whatever I had, instead of ketchup, I used some McD's barbecue sauce I had in the fridge. You know, from Chicken McNuggets. Not quite as good, but still good.
English muffin pizzas were a major staple in my early teaching career. Easy to make, inexpensive, and great for late-night grading sessions. I did it in college too, sometimes, and it's where I came up with one of my favorite inventions: kimchi pizza.
I've got a few more hoagie rolls. Looking forward to trying a few other things.
---
Thursday I finally made the sourdough waffles. When you have a sourdough starter, you have to feed it to keep all the lovely bacteria happy. You can keep your starter dormant in the fridge, but even then it needs to be taken out and fed once a week or so.
Feeding it when you're not baking with it involves throwing half of it out, then adding flour and water. Some people feel the discard portion is wasteful, and I have to admit I feel similarly. For people who prefer to use the discard, there are a bunch of recipes on the web, including these sourdough waffles I tried.
Quite good. I look forward to tweaking the recipe. For a first batch of waffles (I have a waffle iron Penny gave me a couple of Christmases ago, but it's still in the box; Thursday I used an inexpensive mini-waffle maker I picked up for ten bucks at Target six months ago), they were amazing. I'm rather pleased. And I told Penny I'm breaking in her waffle iron this weekend. I have a lot of discard in food storage containers in my fridge.
I actually had breakfast really early Thursday, while I was journaling about Wednesday in the predawn hours. I picked up a loco moco from a local okazuya on my way back home during the walk. For a late lunch, I had the sourdough waffles. Dinner, which I am eating right now, is leftover rice with some canned corned beef hash. I wasn't in the mood to make anything. A good time to pop open something in the pantry.
Work was mellow, once the all-staff meeting was done. I'll go into that later. I didn't get anything crossed off my list, but I made slow progress. Felt kinda like a Friday, which maybe doesn't bode well for my productivity Friday, but I am going to give it my best shot.
I traded texts with a few coworkers after the meeting. Sharon and I actually kinda played the "who's going to get laid off first" game, the details of which I shan't make public. Neither of us thinks either of us is safe; I'll say that. I've been with the company for three and a half years, and I'm still the newest hire in my department. You know how it goes: last in, first out.
Ali in Boston and I talked more books. Crush Girl and I texted about her shoes and my waffles. Jennifer responded to a text I sent, asking her feelings about the phrase RBF.
I feel like I've done a ton more shopping these past couple of months, spending way more on groceries than usual. I'm paying more, for one thing, because I've stayed away from Costco ever since it modified its hours (last week it went back to normal hours, so I might give it a go fifteen minutes before closing on a weeknight; my friend Crissy says she went in and it was nice and sparsely occupied). I'm also purchasing more, since I'm not eating out nearly as much as I used to.
Still, my spending has been surprisingly mellow. I've been stunned to see how much I still have in my checking account the day before payday. There's a lesson in here somewhere, only I'm too stubborn to learn it right now. Food for thought for sure, though. Because with the money I'm saving by not dining out and by not driving anywhere, I've aggressively paid down some credit card debt. I owe my landlord some money too, and I've worked to pay that down too.
I (figuratively) sleep a lot better at night.
It's what I need, too. I have some major car repairs coming up within the year.
Hey, I'm just about done here, and it's only 4:02 in the morning. If I hurry, I can be asleep by 4:30.
Whatever you're dealing with in these lockdown days, if you're not connecting with anyone (or not satisfactorily), I encourage you to reach out. Let's talk it out.
Note to self: forgot to talk about walking and music. Save for Friday.