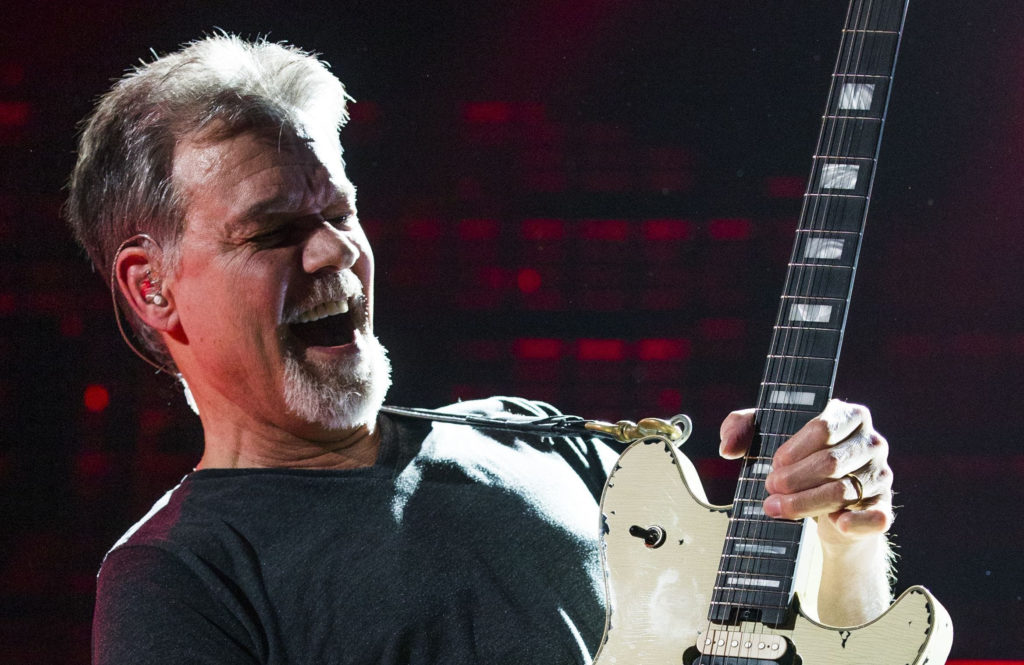 Edward Van Halen was such a dick for the last fifteen years of his life.
It made me sad. I once texted the other Jennifer, "Edward Van Halen is turning into Kevin DuBrow." I was referring to the late lead singer of Quiet Riot, who famously alienated himself from everyone when his band got famous. Jennifer responded, "Eddie IS Kevin DuBrow."
When two of the apparenlty nicest guys in rock music, Sammy Hagar and Michael Anthony, are in your freaking band and you're the greatest living guitarist, your band should kick major ass for decades. Sammy said in interviews that "something happened" to Eddie, and he wasn't the same guy he used to be.
It's rock and roll. Eddie was an artist. Stuff like that happens. But as Jeanne Wakatsuki Houston writes in her autobiography about the Japanese concentration camps during World War II, "When your parents are fighting, do you hope one of them will win? Or do you just want them to stop?"
Eddie kicked Michael Anthony, who is the Van Halen sound, out of Van Halen because Michael was playing Van Halen songs in concert with his new band with Sammy. Utterly ridiculous. But when your name is on the marquee, I guess you get to make decisions like this.
When Van Halen was inducted into the Rock and Roll Hall of Fame (a sham nobody should care about and neither do I), only Sammy and Michael were there for the ceremony. Because Eddie was a dick.
But what a massively talented, unbelievably beautiful dick.
To get a sense of what Edward Van Halen meant, just listen to the first three songs on Van Halen, the band's 1978 debut (which everyone calls Van Halen I). Nothing sounded anything like this before. "Runnin' with the Devil" opens, and what an amazing song. A lot of people say it's still their best song. I say there are too many great songs to say this definitively, but I won't dispute the claim. One of many things I love about it is that it's not fast. Eddie could play fast, but he was great with slow songs too.
The song is menacing and beautiful and still kind of fun. I wonder if there's a better first song on a first album in anyone's discography.
Then "Eruption," the short guitar solo everyone on Twitter is pointing to. "Listen to this if you don't understand my grief," Twitter is saying. I think it says more in context, following "Runnin' with the Devil" and as the lead-in to Van Halen's remake of "You Really Got Me."
Just listen! It's incredible. It's amazing. And it always was, and it always will be, not only in context but just by itself, a mind-blowing three songs. The world's introduction to the greatest American rock band ever.
But if you want to see why Eddie was truly great, listen to "Finish What Ya Started" from the 1988 album OU812 after those three songs from Van Halen I. That's the same guitarist. Different singer (Sammy). Ten years later. Same killer background harmonies (Michael Anthony). Sexy as hell.
At its best, Van Halen was a mind-blowing band largely because it had a god on guitar (usually with no rhythm guitarist, although Sammy is a more than capable guitar-player and added this dimension to what had effectively been a power trio before he joined), charismatic lead singers, a formidable rhythm section, sweet background vocals, and the artistic sensibilities to make room for it all.
Eddie could dominate a stage just by being on it, but he had lead singers who could do it as well, and he left room for them. Musically and in performance. He didn't feel the need to fill every corner of a record with his killer chops. His killer chops were part of the record, not the entire record. When you have musicians like this and give them room to do their thing, you can create beautiful music. Which is what Van Halen usually did.
I will always lament that Van Halen didn't do more. But holy freaking moly, what Van Halen did is almost everything.
---
There's so much more to say, but I'm still processing.
How interesting that this crazy news came along as I've been pondering death and art. But then this would have been true any time in the past nine months, I suppose. I planned to write a short treatise on Mark Heard and his recording of "How to Grow Up Big and Strong" today. I suppose it will wait.
I woke up Tuesday after only a few hours of restless sleep and headed for the beach against my own wishes. I was really pushing the sleep deprivation line and gave myself a little pep talk about focusing on the road for the drive down.
I'm glad I went. Parking was the usual, but there weren't many people in the water. I only saw three stand-up paddleboarders the entire forty-five minutes (or so) I was in the ocean, and only one for the first half. I swam a semi-strenuous fist half then mostly cruised the second. I'm very pleased with what I can do as a matter of routine nowadays. I don't know if I'm in better shape, but I'm a better swimmer.
Came home and got to work. I got the okay from the former Rainbow football player on my recent draft of his story. Finally did finish the first draft of the donor story featuring the former UH professor and her husband, a well-known local former investigative reporter. My supervisor sent it back with some edits, removing a small amount of politics I tried to sneak by (they're a criminologist and a journalist; some politics is called for). I get it, and it wasn't a deliberate inclusion on my part. It was in service to the story.
I serve more than my own stories, of course. I'm glad I have a supervisor I can trust to steer me away from my own inclinations.
After work, I got right to my tasks getting ready for bed and for the next day. They took a little longer; I had a lot of dishes to attend to, for one thing. Planned to be in bed and asleep by seven, but it was more like 8:30.
Breakfast and lunch were shoyu chicken. It was much better the second day, and I'm very pleased with the sauce. I still wish I'd cooked the chicken under pressure for five more minutes. A lesson for next time.
Dinner was three hot dogs with just ketchup. I forgot that I threw out my ketchup and mustard when I did the fridge clean-out, and had to go to my saved takeout condiments for the ketchup.
It's been since July, I think, since I last had a hot dog. Bliss.
I didn't do much texting — I was pretty focused on my work Tuesday. Gregg texted me to let me know he'd purchased a book I recommended on FB last week and was enjoying it. I didn't know it was him at first; he's never given me his number, and I never asked for it, although he somehow had mine. We've been on group texts, I think. I never thought to save his number in the group texts.
He got his cell at a time when we weren't exactly speaking.
But it was a nice, long text chat about the book, the heaviness of life these days, and sports. It was good to hear from him.
Sylvia texted me a funny photo of something she found while clearing out her desk. She's moving to a new position in the company, and we're all thrilled for her. Jennifer (not the other Jennifer) texted me some links as I was getting ready for bed, and I haven't looked at them yet. Jocelyn (not my usual Jocelyn but a coworker) texted me to apologize for passing something along a little late. It was totally fine. Ali texted me while I slept to ask me about changing travel restrictions to Hawaii.
It was somehow a good day despite the overwhelming sadness of Edward Van Halen's death. I blasted the first four Van Halen albums while I wrote. It was great. I'll get through the rest of the discography in the next few days.
Boy, that fourth album is strange. Fair Warning really stands out to me as a different kind of thing for Van Halen. More later.
The days are darkening. The world is darkening. If you're going through it without enough connection with other humans, please leave a comment, and I'll send you my contact info. We can do texts or DMs or IMs, whatever works. Just don't flounder if you're flagging.