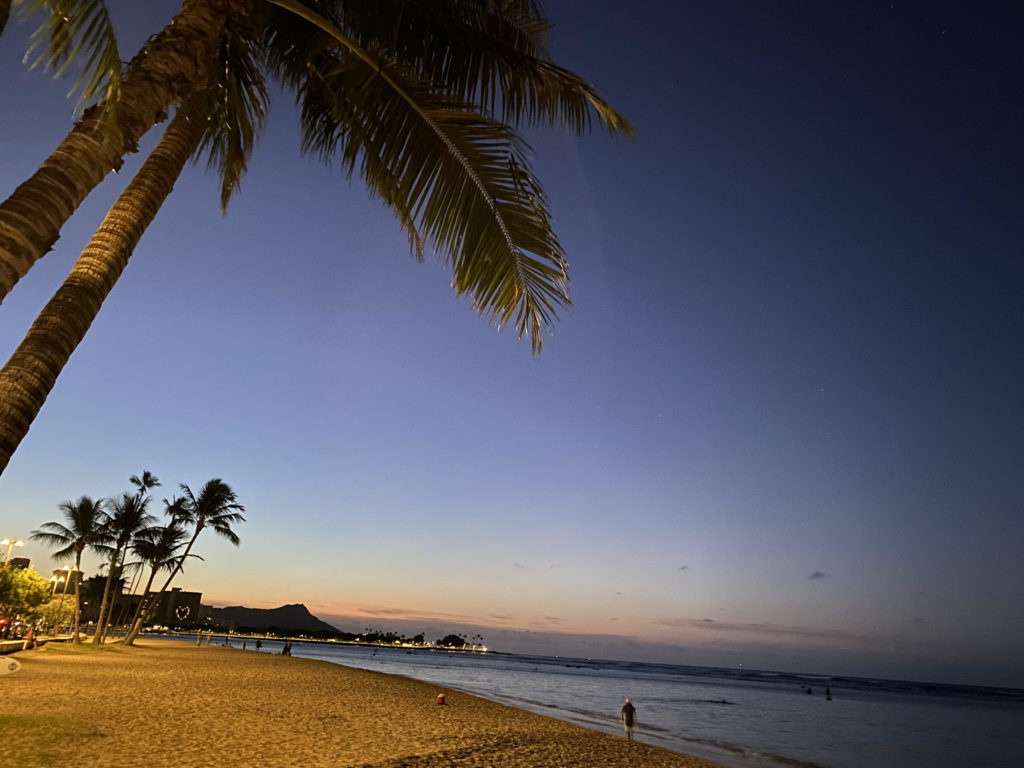 I got up really early Saturday and did get out the door and into the ocean. I was so early I picked up breakfast in the McD's drive-through, set my beach chair up beneath a couple of short palm trees on the beach, and enjoyed the fresh air, starlight, plashing of the waves, and salty breakfast sandwiches while grooving to podcasts. It was pleasant.
I didn't swim very hard, but the ocean was moving, so I got a good workout anyway. In fact my arms were pretty dead for most of the day. I took a nice nap when I got home, then drove to Hawaiian Pie Company to pick up a pumpkin pie. Saw a coworker in the parking lot there (they bring your order to your car when you message them you're there) who said he comes every week and he's working his way through the menu. I said I'm doing the same thing.
It wasn't entirely true; I don't go every week. But I am working my way through the menu, one pie at a time.
I picked up lunch at Sugoi. I regretted it, too, as I nearly always do when I eat there. It's just not as good as the hype, although it's fine. I got the garlic chicken, which is always pretty good if too battery and not meaty enough. I ordered the mixed plate so I could try the tonkatsu too, because I'm a sucker for tonkatsu whenever I see it on the menu. It sucked. It wasn't so-so or unmemorable; it really sucked. I think I'm done with this place.
What was disappointing was that I basically tossed a coin and went to Sugoi because there was more parking on its end of the building. I really wanted Hawaiian food from Young's. Live and learn.
At least there was plenty of brown rice with my order. I didn't have to make any to go with dinner, which was a chicken kabocha soup in the Instant Pot. It was delicious, if not very challenging. Except for slicing the chicken and kabocha, and chopping the garlic and onion, everything else came out of a can. Vegetable broth, diced tomatoes, fresh rosemary (not from a can, but you know).
I didn't even try the pumpkin pie Saturday — too much other food.
I did a little bit of writing, read the news, worked two crosswords, and watched Pitch Perfect 2. It's really not a good movie but it's well-done for not a good movie, and has a couple of nice, clever touches. I'll probably watch it a few more times before I move to the third film.
I texted Crush Girl a couple of times just to see how she was doing. Ali was up late writing a paper, so we distracted each other for a while. Good communication. When we click, we communicate really well; it's the main reason she was my favorite coworker and my first friend at the office. We don't always click, though. Then it's bad.
I continue to sleep poorly. Another Mark Heard song has been going through my head in lulls between Van Halen spins, and all through my swim Saturday morning.
Why do I lie awake at night, think back just as far as I can,
To the sound of my father's laugh
Outdoors, the thought of Sputnik in free-flight?
Before I could fashion my poverty,
Before I mistrusted the night, I must've known something
I must've known something — those were the times I live for tonight
Why? Why? Why?
I say, Why? Mama, why?
Why can't I sleep in peace tonight underneath the satellite sky?
Why? Why? Why?
I say, Why? Mama, why?
Why can't I sleep in peace tonight underneath the satellite sky?
Valerie once noted this song sounds a lot like Jimmy Buffett's "Volcano," which makes a lot of sense. They could be sibling songs. "I don't know, I don't know, I don't know where I'm-a gonna go when the volcano blows."
I'm going to put up with this, not crying uncle and just letting the sleep deprivation become the default, but not beating myself about it too much. Three weeks and change before election day. And we'll see what happens after that.
Why can't I sleep in peace tonight underneath the satellite sky?