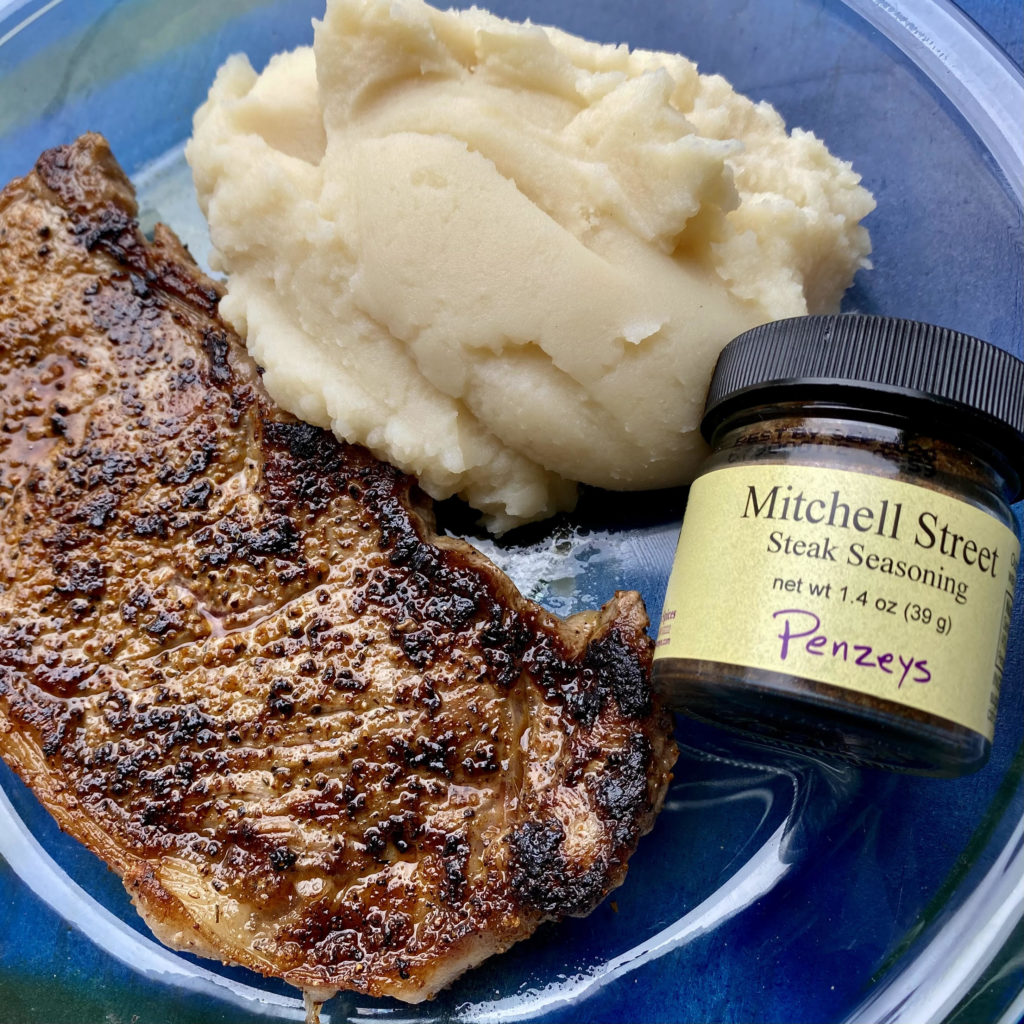 A safer way
Got up at 4:30 Wednesday so I could hit Safeway when it opened at 5:00. My neighborhood Times Supermarket opens at the same time, but its first two hours are reserved for seniors and other vulnerable people, which I totally respect. While I planned to go to the enormous Safeway on Piikoi, my favorite, it occurred to me that I could go a little further and hit the Manoa Safeway, which I knew would be practically empty at this hour.
I think I spent more on groceries than I ever have in my life, by about thirty bucks, and I don't know what the difference was, except that Safeway is generally pricier anyway. I guess there were a few items I don't usually purchase, and they added up. It'd been a while since I bought steak, for example, and I picked up some stew meat (note to self: make that tonight), a bottle of Angelo Pietro dressing, and an enormous bag of kale.
The dressing is my something different this time. I bought some potatoes and a daikon to make raw potato salad, perhaps over the weekend. I think the salad will go great with my leftover dressing from the Choi's spinach tofu salad, but in case it doesn't I kind of want the real thing.
Packed it all away, did some emailing, and went back to bed for about forty minutes.
A wheel pain
Tried to drop the car off, but when we went into the inspection, the person helping me asked me for the wheel lock key. I didn't know what she was talking about. She explained it to me, I asked what it looks like, and we looked in the usual places. No dice. It's entirely possible it was in one of the usual places when I bought the car, but when I gave it a first cleaning, I might not have known what it was and just tossed it.
Great.
I brought the car home, looked again and didn't find it, then looked at online options. I didn't know what I was doing here. The woman at Firestone had suggested a quick trip to Sand Island to get a replacement key from Ron's Performance, a store I'm familiar with. I'm glad I went home first, because when I looked it up, I learned it closed early last year.
The worst part of all this is not that I didn't get any work done on my car, but that if I'd had a flat, I would have been powerless to change the tire. This is super annoying.
If the wheel locks are the ones that came with the car, I can order a replacement set with a key from almost any auto parts store, but there's a lot of stuff on this car that isn't stock. Since I'm taking the car to the dealer anyway Monday morning for the airbag recall, I'll take a moment to ask the dealer for advice. Then I guess I'll take it from there. If the wheel locks are original, there shouldn't be a problem. Famous last words.
Nap out of it
Work was okay. My boss had to keep postponing our one-on-one, which affected my flow, but honestly, my flow wasn't flowing very well. I have to get this other (late) story drafted, dang it. Thursday for sure. A good Taco Bell breakfast, some caffeine, and maybe a little prog metal, and I'll be amped to fill the narrative gaps.
I was comatose tired. I wrapped up my workday (not that there was much to wrap), watched the news, did a couple of chores, and took a deep nap, getting up at about 8:00 to think about dinner and get some writing done.
The nap was the most successful effort all day. I woke pretty refreshed and got to work on the enormous bag of kale I brought home. It wasn't going to fit in my tiny fridge, and my only real solution was just to cook it all, so it would shrink down, then pack it in zippered plastic bags, which are better than plastic food containers for fitting into available spaces.
This is one place where the Instant Pot is brilliant. A couple of cups of water, a steamer basket, several large handfuls of kale. Pressure cook for two minutes (which takes five minutes or so, since the pot has to come up to pressure first), dump onto paper towels, and repeat. It took five reps to get it all cooked, and I munched on the kale throughout the process. It's good when it comes right out of the steam.
Took a while to get rolling when the NaNo Skype started, but stuck with it when the others retired, and wrote the review of New Kid I posted last night. Didn't speed-write that one since I had to be careful of a few things.
Wish you would step back from that ledge, my friend
So dinner was leftover wasabi mashed potatoes with a bunch of steamed kale. Not a lot of food, but I'd had a large lunch, which was a steak, cooked with Mitchell Street seasoning (a gift from a coworker). Also a mess of instant mashed potatoes with wasabi oil and some super-oniony butter. Breakfast was an Egg McMuffin combo from McD's, picked up on my way home from the supermarket.
Sylvia texted me to ask if I was ready to dine out. There's a new saimin spot everyone's buzzing about, in Penny's neighborhood. It was a nice gesture, but I told her I'm not ready yet. Let's all get vaccinated first. I sent my coworker Stacia a photo of lunch, since she gave me the seasoning a year ago and I finally took it for a spin Wednesday. She totally forgot she gave it to me: her response to my text was that she loves spices from this company. I had to remind her that this was a gift from her, which was kind of funny.
Sharon and I texted about a possible job lead for someone she knows, with a friend of mine who runs an alternative school. It led to some conversation about the new Kina Grannis cover of Third Eye Blind's "Jumper," a song I love. The Cindy-Suzanne-Julie group text buzzed a little but then petered. Crush Girl and I texted a little about the art of workplace gift-giving, which gave me an idea for an article. Filing it for next year, since it's too late for this year.
Good interaction with friends and coworkers today, and I got my fridge stuffed with interesting experiments for the coming week. I'm calling it a push, since I was stymied on the car wars and made no progress on stuff I get paid for.