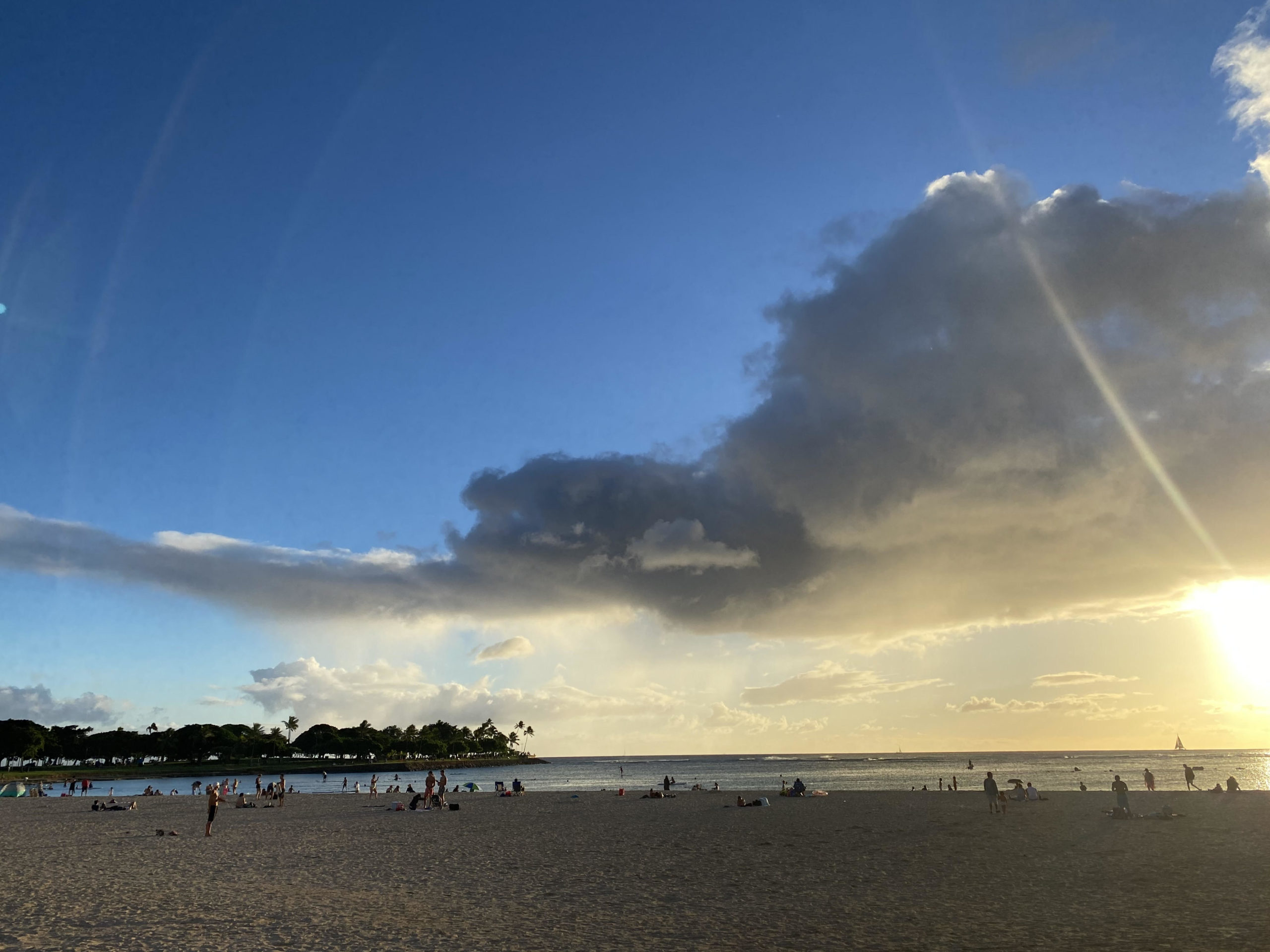 I'm already not sleeping well, so although I went to bed at 3:30 late Friday night, I set the alarm for 5:45 so I could get to the post office early enough not to run into people. I still had to buy the postage for my second attempt at mailing Penny's gift, and I needed a fresh book of stamps so I could mail the rent. I know I have stamps somewhere, but they weren't in any of the usual places.
When the Saturday morning alarm went off, I realized I'd dropped right to sleep as soon as I put my head back and slept really well for the 110 minutes (according to the machine Darth Vader connects to), and conceivably could have kept going for a few hours more. It would have been my first decent sleep in more than a week.
I considered putting the post office errand off until Sunday, then nixed the idea because I'm all about getting the to-do list taken care of, right? Accomplishment and all that, although a good night's sleep would certainly be a better accomplishment.
The errand went smoothly (whew). I was in the neighborhood, so I stopped at the Safeway, which is a pretty safe way to get groceries at 6:30 on a Saturday morning. Then picked up breakfast (a chicken katsu loco moco) at Grace's.
Should just have gone to bed but I was hungry. Ate breakfast while watching some of the Indiana-Ole Miss football game and reading the news. After a bit of semi-contentious texting with Ali, I finally went back to bed at about 9:30 and woke up a few times but mostly stayed there until two or three. I did a few chores, finished breakfast leftovers, read the news, texted Ali some more (fresh topics, much less contentious), and realized I could hit the beach, possibly get a parking stall as others were leaving, and spent some time in the ocean.
Why not?
Saturdays at Ala Moana, I was immediately reminded, are different from weekday afternoons. The two volleyball courts at the far Kewalo end were packed — it looked like an enormous party. Ugh. There was no open parking on that end of the beach at all, all the way to the pavilions, pretty much, which is terrible for swimming. I got a fair spot at the Magic Island end, which would have been great in safer times, but I was a longer walk from the showers and the shore than I'm comfortable with.
The beach was not exactly packed on that end, but it was a pretty solid wall of occupancy near the shore. I threaded my way carefully through some space around where the showers are, and once I was in the water I was safe.
First sunset swim in my adult memory. As the sun neared the horizon behind me, a huge, high rainbow stretched from the Waikiki hotels to the Piikoi condos in front of me. I stopped swimming a while just to watch it. Some nearby stand-up paddleboarders did the same.
I took my time getting out, just enjoying dusk (for a change; it's my least favorite time of day). I had resolutions on my mind and hadn't settled on anything yet. The line for cars getting out of the park was long, but it moved well, and I had my 90s rap playlist going, so I wasn't in any hurry. Note to self: the L&L on the Kewalo end has reopened but I've never noticed because apparently it opens later. It was still open as I passed sometime past seven.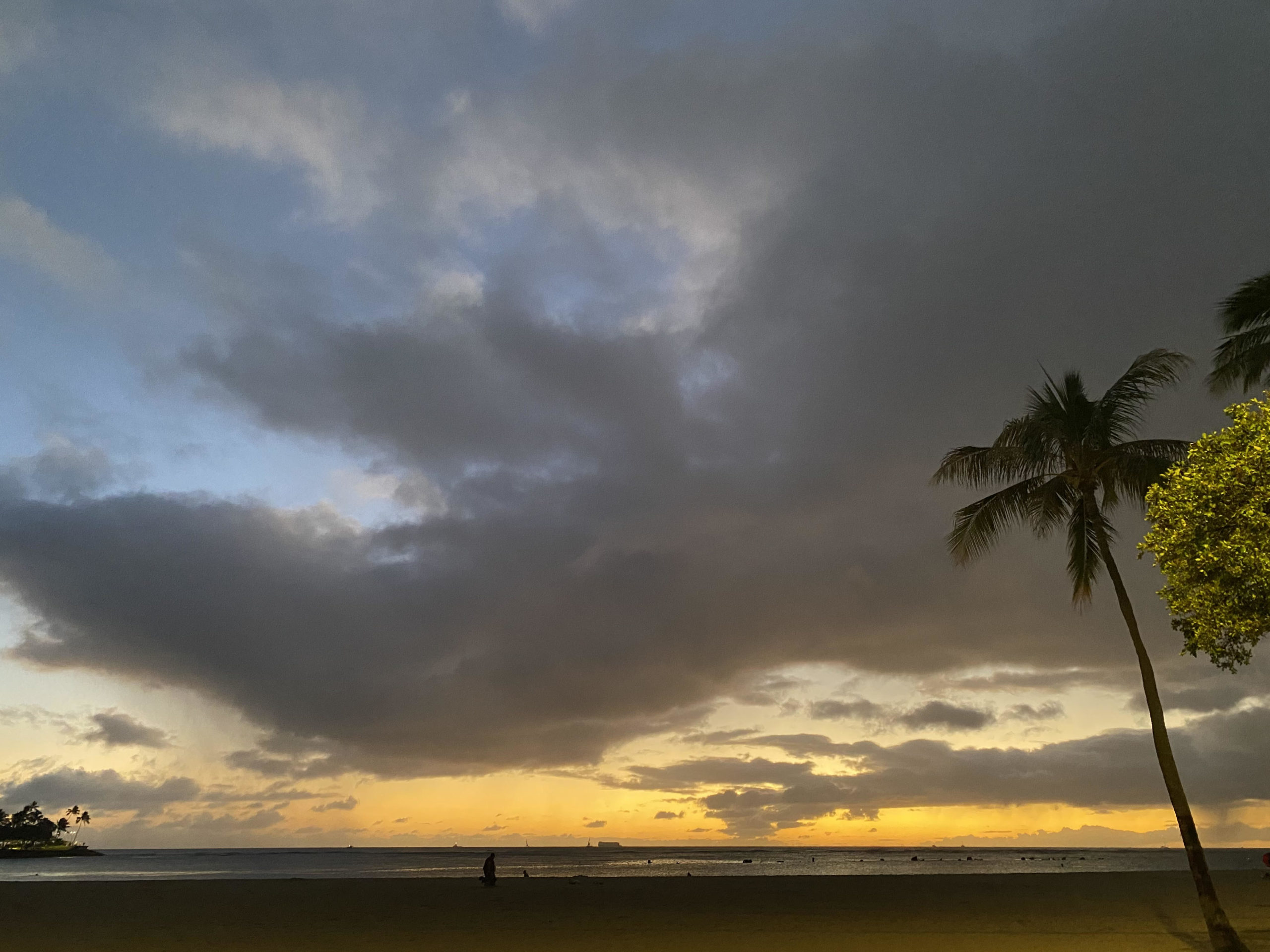 Stopped for wings at Wingstop on the way home.
I spent most of my evening reading some websites. I'm interested in doing some work on my car stereo and I didn't know jack about car stereos. Now I know slightly more. It'll be a long-term project because of costs, not to mention other repairs I'm giving higher priority, so I have time to absorb some knowledge. The guy who had the car before me had a sweet setup, removing most of the good components he had when he gave me the keys, but he left the power amp to retrieve later. When my fan belt snapped the second day I drove it to work and asked the guy if he had ever seen what I was looking at (the belt was actually shredded), he said he felt terrible and although I said it wasn't his fault and he had nothing to apologize for, he insisted I keep the poweramp and he wouldn't hear any discussion about it.
So I'm not starting with nothing, and the head unit (see how quickly I've picked up the jargon?) is definitely good enough for my purposes for now.
Anyway. That's what I did Saturday evening instead of making resolutions or reading my novel. Went to bed around 2:00. Progress.
Crush Girl wasn't very chatty again, despite my few decent efforts to engage. It was fine. Ali and I ended on good notes, texting late into the evening.
I didn't realize until I turned in that I didn't do any snacking. I also didn't drink enough water, which is super unusual for me. I also haven't had a decent serving of veggies in a few days. I also have had takeout for every meal (except the instant ramen Friday night), which I am not apologetic about.
I did pick up some nice veggies from Safeway, not to mention an ahi steak and a ribeye, so the kitchen will be open once again before long.
People keep dying. Vaccinations aren't being administered quickly enough. 45 isn't going gentle into that good night. As I write this, the Washington Post is breaking a story (with accompanying recording) about his one-hour conversation with the secretary of the state of Georgia in which he tries to influence him to commit fraud. When is the last time he spent an hour on solving problems related to the pandemic? I think it's been a while. Meanwhile, we each slog through the best we can. Don't slog alone. If you need some connection, leave a comment. You can connect with me.