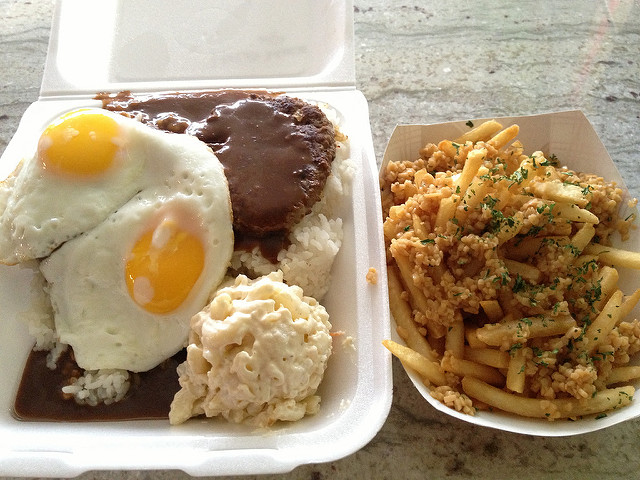 From here.
What's one of your language-related (that is, something people say or write) pet peeves?

Chicken loco moco from Downbeat Diner. 3/13/15.

Because I listen to a lot of sports talk, I become sensitive to whatever the athletes and their pundits say.  What miffs me lately is "at the end of the day…" which isn't really bad.  It's just that they all say it now, all the time, sometimes multiple times in one conversation.  Please just gouge my eyeballs out with a dull spoon instead.

What's one of your dining-out-related pet peeves?
You know, I've learned to be pretty easygoing when it comes to eating out.  I'll admit to a half-second of peevishness when at a fast food place I ask for my order to dine in and they pack it to go, but it's fleeting, because I realize I'm not paying enough for my food and that kind of pickiness.  If it's fast food, I want it quick, predictable, and tasty (enough), so whatever.

Prime rib loco moco from Yogurstory when that joint was still good. 4/16/11 (Foursquare Day).

Oh, I just thought of a good one.  There are places around here that won't serve an egg sunny-side up, ostensibly for health reasons.  You know, we who enjoy a runny (or even raw) egg know what we're getting into.  If we order it anyway, just give it to us.  At the campus where I work, you can't get a sunny-side-up egg, but nine feet away in a chill case is ready-to-go poke.  Cubes of raw fish are okay but a sunny-side-up egg isn't?  Who makes these rules?

What's one of your technology-related pet peeves?

Korean-influenced loco moco from Red Pepper on Fort St. Mall. 1/20/15.

It honestly shouldn't bother me, and maybe this goes under language rather than tech, but the mass media have a way of misusing tech terminology.  They do it so often that their misunderstanding of the term becomes the commonplace usage.  One (dated) example is the flash mob.  A flash mob used to be a nearly spontaneous group behavior where "organizers" (such as this could be called organized) sent out text messages with simple instructions, such as "Walk into the Pali Highway Safeway at exactly 10:00 a.m. today and purchase exactly one orange.  Pay for it at register 1.  Pass it on!"  You never knew how many people were going to show up or if there would be some rebel who'd show up and buy an apple instead, but there was a spontaneity combined with surrealism that was magical.

Loco moco from Candi's Catering and Cafe. Over easy instead of sunny-side up. Irritating! This joint closed shortly after I took this photo. Serves it right for serving it wrong. 4/16/15.

How "flash mob" became the name of a rehearsed performance in a public space (sometimes even promoted ahead of time! "Food truck rally with flash mob performance by Flash Mobb Kreww!") is a mystery to me, but I know the mass media played a part in the devolution of the terminology.  And this kind of thing happens all the time, with terms like "sexting," "home page," and even (many many many years ago) "blog."

And if you've missed my saying it before, here it is again: Chalkdust is not a blog.

Am I a tech/language snob?  Only if you consider my usual, insistent position snobby: if language changes because we're using it creatively, the language becomes richer and more dynamic.  If it changes because we're too lazy to use it specifically or correctly, the language becomes dingy and dull.

What's one of your television-watching pet peeves?
Super-loud commercials.
What's something you do that you know peeves others?
I move pretty slowly through crosswalks.  I'm old and often injured, and often am in the middle of a ten-mile walk.  Cut me some slack, please.