The Glass Castle (2017)
Brie Larson, Woody Harrelson, Naomi Watts. Written by Destin Daniel Cretton, Andrew Lanham, and Marti Noxon (based on the memoir by Jeannete Walls). Directed by Destin Daniel Cretton.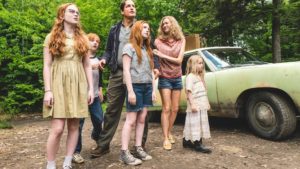 I admired Destin Daniel Cretton's Short Term 12, largely for its character-driven approach, realistic portrayal of life in a juvenile care home, and excellent acting by Brie Larson. Something about the director's style appeals to me, and I've since become an even greater admirer of Larson, who won a Best Actress Oscar for her excellent performance in Room.
The Glass Castle reunites Larson with Cretton, and it's a good pairing. Larson is very good as Jeannette Walls, a twenty-something society columnist for a New York magazine. Told in flashback, her story of growing up in extreme poverty with an artist mother and alcoholic father is heartbreaking and somewhat inspiring. Jeannette and her three siblings understand that they don't have money, but while they're still very young, they seem to appreciate that they're blessed in other ways.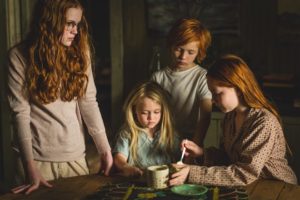 More than anything, Rex Walls (Woody Harrelson) cherishes his freedom. While he's more than capable of earning an honest living, he and his wife Rose Mary (Naomi Watts) love being able to get into a car and go anywhere, whenever they want, and set up temporary homes wherever they can find some space. Sure, these moves are often spurred by mounting debts the family has no hope of repaying, but they do a good job of communicating to their kids that as long as they have the stars at night, each other all the time, and freedom from obligations, they're pretty wealthy.
It might have worked out, if Rex weren't an alcoholic and a dreamer of impossible dreams. He's a good man in the complicated way that most good men are, and he has demons his children only become aware of as they grow old enough to understand them. For many reasons, they're willing to write him a pass, sort of, but there comes a point at which negligence becomes malice, and malice against children is abuse.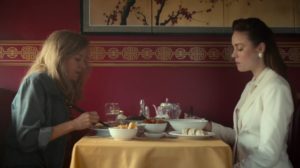 This is really the story of how Jeannette—clearly her father's favorite, at least as this story is told—grows through stages of relating to and understanding her father. I find it a satisfying arc, although whether you will find it satisfying probably depends on how strongly you condemn Rex. Many critics seem to believe that Rex's offenses are too great for any kind of redemption, let alone the weakly granted redemption he's given. Since the film is told through Jeannette's eyes, I say there's a place where maybe we don't feel at all satisfied for Jeannette and her siblings but can accept that they're satisfied themselves. This is their father, and what good will it do any of them not to forgive?
This is not a great film, but the acting is solid. In addition to the leads, the two actresses who play eight-year-old Jeannette and eleven-year-old Jeannette (Chandler Head and Ella Anderson, respectively) are pretty wonderful. Larson and Harrelson do a very nice job of developing the daughter-father relationship so that the end feels like the right end, whether it's what we wish for or not.
This may be something of a spoiler, but viewers sensitive to themes of sexual abuse should probably stay away.
73/100
7/10