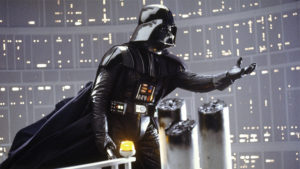 The sleep thing continues to be an issue.  I can neither explain nor understand it.  I get home from work with the clearest, best intentions of getting stuff ready for the next morning (I'm okay there), then doing something to unwind, then putting myself to bed properly, getting a good rest — thanks to my Darth Vader machine — and waking up refreshed and ready for another day.
In the past ten days, it's worked out this way maybe once.  It's comical and heartbreaking at the same time, which I just realized should probably be my epitaph.
After weeks of breaking my own promises to myself, I finally made those doctor appointments.  Had my blood pressure taken, and it was almost fifty points lower than when I first had it looked at last August, but it was up a few ticks from the last time several months ago.  Ugh.  Doctor upped my meds by 25% (two pills in the morning instead of the one and a half) and I go back in a month to check it again.  My systolic has gone steadily down, which is a big encouragement.
I see the eye doctor Monday afternoon.  I think it's time for a field of vision test, but this one might just be eye pressures to see if I'm holding.  I should be; I take my eyedrops religiously, which is one of the idiotic reasons I haven't always been putting Darth Vader on my face.  The stupid eyedrops go in, and I have to lie still for three minutes or so.  I usually make it five just to be safe.  And you know what happens?  I fall asleep.  I do set a timer, but the timer goes off and instead of reaching over and grabbing the face mask, I just hit the kill button and stay where I am.
Sigh.
I also discovered (because I finally read the accompanying literature, only eight months after my diagnosis) that replacement Darth Vader parts are covered 80% by my insurance if I order through the approved vendor.  Different components have different wait times for replacement approval, but I was eligible to get everything replaced.  My 20% share came out to $67 bucks, which is kind of alarming.  Not for me, but for people who don't have the insurance I have.
My weight is up a few ticks from the last time I looked at it, but down seven pounds overall since last August.  Should probably keep that trend going.