Searching (2018)
John Cho, Debra Messing, Michelle La. Written by Aneesh Chaganty and Sev Ohanian. Directed by Aneesh Chaganty.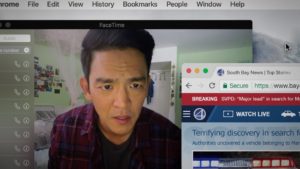 Searching is the second movie I've seen in September 2018 that's marketed as a thriller but is really a mystery. So if you are not thrilled by thrillers (as I am not), don't let the trailer keep you away. There are a couple of dark episodes, but the film stays away from edge-of-your-seat suspense or immediate peril for the main character. The main character's teenaged daughter disappears and may be dead, and very sensitive parents may wish to skip it for this reason, but even with this major plot element, the film is really not at all scary.
Some viewers, however, may find it gimmicky. The entire movie is seen on electronic screens of some sort, usually computer screens and smartphone screens. Even when we're looking at live news reports, we see them not on television, but via streaming through a web browser. There's a good reason for the gimmick, and although this device forces the filmmakers to resort to some unrealistic exposition by way of news reporters who say things they would never say (and televise things they would never televise), it's worth this bit of tradeoff for the social issues they explore. In this way, Searching is not a bad partner for Eighth Grade.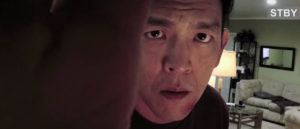 Cho is David Kim, the recently widowed father of Margot, a high-achieving high-school senior. Margot disappears one night when she's supposed to be at a study group. As police detective Rosemary Vick (Debra Messing) and her team trace the evidence, they ask David to contact all of Margot's friends to try and figure out where she might have gone. The more David looks, the clearer it is that he really doesn't know his daughter.
It's pretty cool to see Cho carry a film pretty much entirely on his own. Messing is a supporting actor at best here, and Cho is more than up to the task. The film has a few flaws best left for the viewer to discover (or not care about). I'm willing to look the other way because the story is engaging and surprisingly not preachy about the things it wishes us to consider. In my own writing, I frequently ask, "How does any of us survive childhood?" Searching proposes another side of the question I've honestly never considered: How does any of us survive parenthood?
7/10
73/100