The Bookshop (2018)
Emily Mortimer, Bill Nighy, Patricia Clarkson, Honor Kneafsey, James Lance. Written by Isabel Coixet, based on the novel by Penelope Fitzgerald. Directed by Isabel Coixet.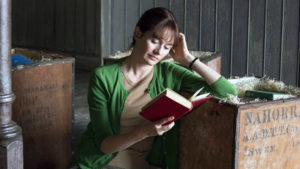 Florence Green is a middle-aged widow living in a very damp coastal English town. She opens a bookshop, despite reservations by (and condescending advice from) supposedly smarter men like her banker and her solicitor, and despite strong discouragement from Violet Gamart, an elder socialite who envisions a community arts center in the space Florence purchases for her shop.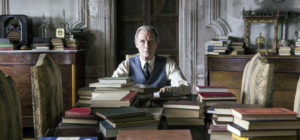 A smart, young farm girl works for Florence after school, and the two ladies form a nice mentor-apprentice relationship. A wealthy recluse (played by Bill Nighy, one of my favorites) is one of her steadiest clients, and the bookshop seems to take hold in its little corner of this town among other residents as well, but Violet still wants her arts center.
The Bookshop is a wonderfully moody film, colored with the grayish blues and grayish grays a lot of post-WWII films set in England seem to favor. England, like the rest of the world, still feels the effects of the war, and people seem to want connections where connections may be elusive. Florence's tenuous but intriguing connections, made through the drawing power of her bookshop, seem to bring together people who have difficulty connecting otherwise.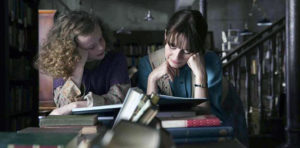 Like her bookshop, Florence may not belong in this place among these people, but like her bookshop, she appeals to the people who need these connections even if maybe they never realized it.
I love this movie. I love Emily Mortimer's quirky but dignified performance as Florence, and of course I love Bill Nighy whose Edmund Brundish has all kinds of locks begging to be sprung.
I imagine this is the film people are thinking of when they say they dislike British films (it's Spanish, but whatever). For me, it's a desperately needed scratch of my long-neglected Merchant-Ivory itch and I can't wait to see it again.
9/10
91/100