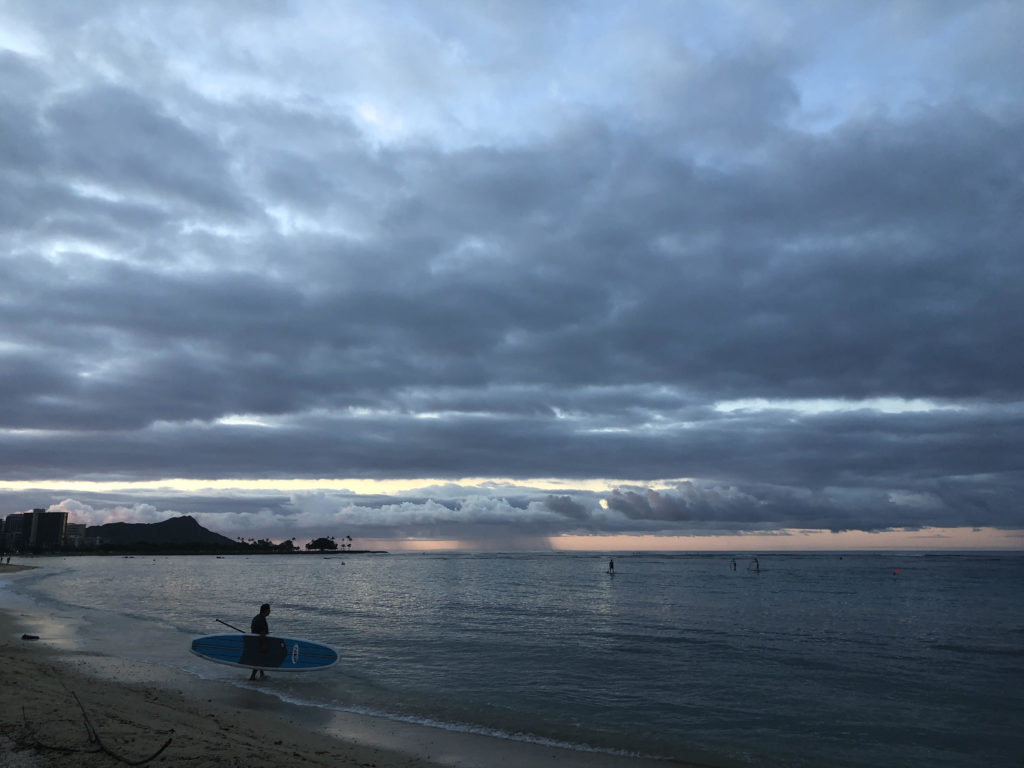 Everything's beachy keen
If you're paying attention, you probably figured out I went to bed early(ish) Thursday so I could go to the beach early(not ish) Friday.
Last week Thursday, I tried to park at Kewalo Basin so I could walk through the little mini-park there (it's there for people who live on the boats) and hit my usual beach. I got there at around 7 and much to my dismay ('though not really to my surprise) the tiny parking lot there was full, and people were waiting for spots to open up. So I drove to that free parking area behind the Ilikai, behind the lagoon at Hilton Hawaiian Village (I gotta find out what the surfers call that spot) and walked to Fort Derussy. It was nice, but it wasn't ideal.
They open the Kewalo parking lot at 4, but I didn't think the dawn patrollers were going to be there that early, since dawn wasn't until just past 6. So I got up at quarter to five and got down there at about 5:20. Plenty of parking.
It's not a free lot, but it's a dollar an hour, so it's totally worth it. I paid for three hours (just in case). Almost everyone already parked there was either a surfer or a standup paddleboarder. And the regulars at Ala Moana (especially the SUPers) all know each other, so it was a chatty crowd at an hour when I just wanted some quiet time.
But yay. The sun came up, everyone made the trek to the beach, and I trailed behind. I jumped in at what was my usual spot for years, and swam two buoys down and back. It. Was. Lovely.
I don't usually swim on that end of the beach anymore. I've found the other end, just beyond the pavillions on the Magic Island end, much nicer lately. The parking's not quite as close to the water (because the beach is wider) but there's more parking at sunrise and more room in the water for spreading out. The water movement's a bit mellower too, most of the time. Oh, and the shower on that end is much better. There's one showerhead with amazing water pressure — the regulars usually wait their turns for it, or they'll jump beneath one of the other showerheads and move over when the good one opens up.
I love showering at the beach. I took the showerhead off my shower at home so I could emulate beach showers. And I usually take cold showers too for the same reason, even when I'm at my parents' house and showering there.
I'm chatty; can you tell? It was a good day largely because of the excellent beginning, and I'm feeling pretty good.
There were still a few open parking spaces when I left at quarter to 8 (or so). Maybe last week was a fluke. Or maybe Friday morning was a fluke. Guess we'll find out sometime next week!
I picked up breakfast on the way home at Pancakes & Waffles. A Denver omelette with a short stack. It's not the best thing on the menu but I wasn't interested in anything exciting. I wanted something simple and filling. What I really wanted was a Subway sandwich, but the last time I tried to get to the Subway in my 'hood, I pulled up at 8 and the store was still dark. I get it, and I'm trying to be patient, but don't people know how much I love my Subway sandwich after a good swim?
Eat. Sleep. Write.
I ate breakfast while I read the news, then went back to bed. It. Was. Also. Lovely.
I pretty much spent most of the day moving between the bed for lazing horizontally and the desk for lazing vertically. I really wanted to write my review of The Lighthouse (see entry below!) and do some other writing, but the review took most of my writing time. Ridiculous.
I skipped lunch again. Snacked on some potato chips (Kettle Bourbon BBQ again). Dinner was some of my fresh bread with slices of mediocre cheddar. I've got some decent blue in my fridge and I think I'll break it out for the rest of this bread Saturday.
Regrets, I've had curfew
I cut myself a little slack on the walking because of this morning's swim, but still thought it would be nice if I could hit the daily goal. I didn't. Took way too long getting out the door, so I only got it up to 7400 steps before midnight. I think next time I go to the beach an hour before sunrise, I'm going to walk along Ala Mo Blvd and get in as many steps as I can before jumping in the water.
I got 8100 steps after midnight. It's quiet out there after 11! Unheard of for a Saturday night. I stepped into the 7-Eleven at Nuuanu and Kuakini, the one I usually walk right past because there are always at least four customers in there no matter what time it is, and it was so slow that the lone clerk (there are always two, but not tonight!) had parked his SUV right in front of the store in the customers' parking, and was hanging out next to it with the door open.
I have to say the curfew makes the walking much, much more pleasant. As long as the police chief says it only applies to driving, I think I could get used to this.
I listened to some podcasts, my short but awesome Foo Fighters playlist, some songs from I Am Abomination (inspired by an email I got from the band about the new album this month, which I backed on Indiegogo two years ago!), and the first few tracks from the new Nightwish album.
I suspect Nightwish fans aren't going to love this one, but I think it's really interesting, perhaps their most interesting album (so far) since Floor Janssen joined the band.
Connecting points
Friday I traded a few texts with Ali in Boston (no holiday for her), the friends from the engineering firm (Suzanne braved Costco! Nooooo!), and Sylvia (we had chatted about how we each wanted to go to the beach this weekend so I sent her the photo I've shared here). Swapped a few DMs with my uncle in San Diego — he's still working at the office but will work from home some days. And there was some IMing with the person I met from Friday 5 (in Wisconsin) about lighthouses, and with Laura about The Lighthouse because she's the person who pretty much made me watch it.
Almost every paragraph in this entry begins with the word I, something I didn't do on purpose. In fact, I usually try to avoid it. I think this is a sign I am tired and should go to bed.
Looking forward to accomplishing even less Saturday than I did Friday. If your Saturday isn't looking great, or if your outlook overall isn't great, I hope you're not going through this alone. If you are, please reach out. We can text, IM, or DM about whatever. Just please don't despair.