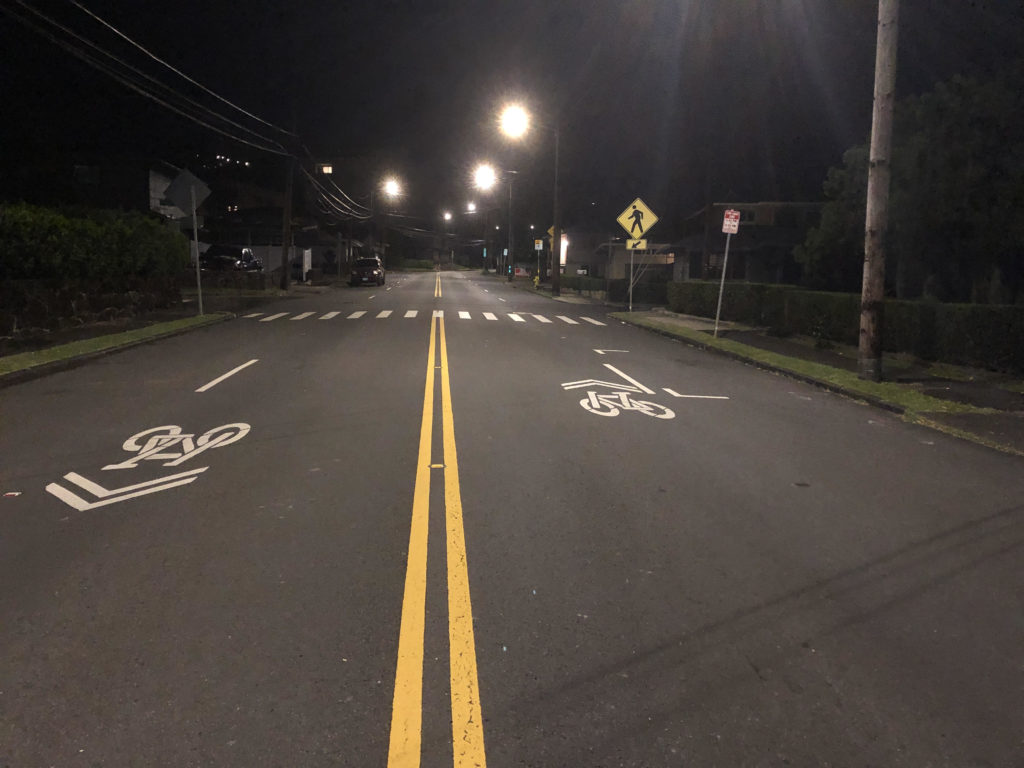 I seriously don't know where the day went. I slept in, sure. Got up for breakfast (two frozen burritos) and to pop my meds, then went back to bed. That much is clear.
Then, much like Friday, I kind of alternated between the bed and the desk, only I don't think I have anything to show for any of it, except the Sunday NYT crossword. My one major task was going to be making a few face masks out of old t-shirts, but before I knew it, it was time to get out for a walk. Then I took a nap, and then I went out for a walk. It's like one moment it was 2:00 in the afternoon and the next it was 10:30 at night.
Lunch was a whole lot of steamed brussels sprouts. Dinner was the homemade bread with balsamic vinegar and the mediocre cheddar. Wasn't in the mood to break out the blue. Somewhere in there was a snack of tortilla chips and what remained of my fresh salsa.
I love my city at night, but it's especially beautiful when the mayor declares a curfew for people in cars. It's so quiet and so safe, and I revel in the darkness. I reeeally think I'm allergic to something in the flora on Nuuanu Avenue, between Wyllie Street and Judd Street, on the Ewa side of the street. I was sneezing and sniffling like a madman again, and only while walking that one block.
Thanks to those 8K steps very early Saturday morning, I got the stepcount to 15,700 steps before midnight, and then added 5200 steps after midnight. The first half of the walk was rough; my body and mind didn't want to be out there. The second half was really nice, though, my body and mind both loving the quietude.
I listened to a few podcasts, plus my short but decent The Cure playlist and then my short but awesome Easter playlist. I'm kind of hoping that my fellow believers will experience this Easter soberly and deeply, and realize what I've been quietly trying to tell them for the past few years. Maybe we don't need a physical church. Or maybe we don't all need one.
Didn't do a lot of connecting. I wonder if that's why the day seems not to have really existed. Early Sunday I sent a link to Keith Green's "Easter Song" to a bunch of people and traded a very few IMs with a person I know from Friday 5. Penny texted around dinner time to check up on me. We talked a little about how easy it is for introverts to just do their thing at home alone.
I don't think I'll plan anything for Sunday except maybe making one mask just to see if I can. I have a few veggies I'd like to use up too. Maybe send out for a late pizza? Who knows!
It's Easter, which may not mean anything to you. If it does and you're feeling separated from the body, alone when you feel you shouldn't be, I hope you'll reach out. We can have a Keith Green listening party or something. Through DMs, texts, or IMs, of course!