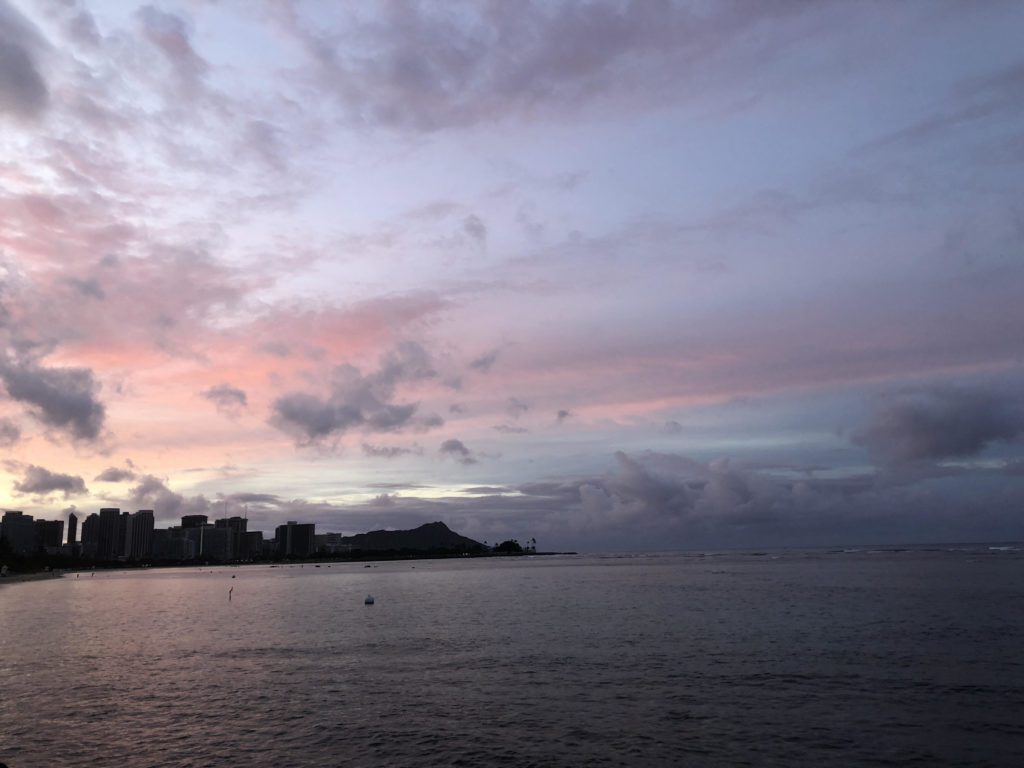 Ocean day
Didn't get to bed quite as early as 11:30, plus I woke up an hour ahead of my alarm, so I really didn't get anywhere near enough sleep last night and it affected me all day.
Still, I knew what I had to do. I had to get into the ocean. What (it turns out) I didn't have to do was get there so dang early. It seems the one morning when I got iced out of parking was the fluke. It must have been an outstanding surf day, that one time, on the south side or something.
There was plenty of parking when I pulled in at 5:00 and when I left around 7:30.
I don't think I've ever seen so few people in the water at Ala Moana in the years I've been swimming there. I swam to the second buoy and back, probably a little more aggressively than I should have, but I felt the need to make my body work.
Great plan. My arms and shoulders were screaming all morning, until I took a naproxen sodium around lunch time. Couldn't take it.
The only part of it all I really regret is not getting to bed earlier Thursday night.
All the live-long day
Work trickled out of me like a dripping IV. It was not my best day. I sorta found my stride around the time of the daily Zoom meeting, which I think coincides with the painkiller kicking in and my body not complaining. I called a donor for an interview, a 92-year-old former Honolulu teacher. It was a good talk, and she gave me some really good content for the article.
Our staff newsletter goes out next week, so that was my next task. I put only a tiny dent in it before turning in. I'm going to have to pay it some attention sometime this weekend.
Bee ye glad
Saturday, mid-afternoon. I'm outside near the lanai. Four or five bees buzz around my head, coming close enough for me to hear the buzzing quite loudly. They seemed a bit aggressive, so I kind of ran out of there. I thought I'd give them half an hour or so to finish whatever they were doing before I went back out, but when I did, they were still there, and they came right at me. This time, after running from them, I stuck around and spied on the area.
There were a small number of bees going into and coming out of the vents in a shed door. The shed, which I don't use, is right in the area where I spend a lot of time outside, almost every day. I dig bees, but I just couldn't have them there. I mean, it was very stressful. If a hive had established itself I was going to be severely inconvenienced.
I have friends who've kept bees. So I asked on FB, and got some good advice and info. I kind of went with my own impulse, now that I had a little bit of info on bee behavior. It was getting close to sundown, and if the hive hadn't yet moved in, I didn't want to give it a chance. So I went out, flung the shed door wide open, propped it open with a lanai chair, and ran.
When I went back out a couple of hours later with a flashlight, there was no evidence any bees had been there at all. Whatever they were up to (possibly scouting hive locales), they decided to move on rather than move in.
Not much of a story, and certainly not worth waiting a week for, but it was a major stress for me in a time when for the most part, I've avoided most non-work-related stress.
I'm so, so glad it worked itself out. I was seriously not equipped to deal with a problem like that.
Text shooter
I forgot to mention that D, one of my best friends from high school with whom I've spent a lot of time since our reunion three years ago, texted me Thursday. She became an empty-nester that year, so after a couple of decades of barely interacting beyond once or twice a year for birthday greetings, we'd hardly been in contact at all. These last few years have been really nice.
For a while, I went monthly to shows with D and another classmate Kathy. Our classmate Derek has been in bands since our high-school days, so seeing his band once a month sorta became our thing. His band had to break up because of health issues for some bandmates, so it put a little dent in our hanging out.
Anyway, it was nice to trade a few texts with her. I have to call her D because of her work. She has to maintain as low a personal online presence as possible, out of caution for her safety and her family's safety.
I don't think I mentioned that Penny and I sent a few texts back and forth Thursday about what we're reading, and about how all this extra time we're supposed to have working from home hasn't really panned out the way we thought it would.
Friday was not nearly as interactive. I got enough interaction during work to kind of cover me, although I acknowledge that work connectivity can't substitute long-term for personal connectivity. In addition to the phone interview and daily Zoom meeting with my department, I traded texts with the fundraiser who works with that retired Honolulu teacher. We get along really well, so although the conversation was mostly business, the connection was enjoyable.
Crush Girl did text me once, responding to a text I sent her late Thursday. It wasn't much of a conversation continuer, so we didn't keep going beyond that. I kind of missed her.
I sent a pre-sunrise photo from the beach to Ali in Boston and JB, neither of whom responded. I'll hear from Ali in Boston probably at the end of the weekend, or possibly very early Saturday. I'm guessing late Sunday.
"I'm as real as a doughnut"
I was right about ordering masks from Etsy. Four masks I ordered from two sellers have already shipped, one from the midwest and once from the central East Coast. Expected arrival for both orders is next Saturday, but both are already in USPS possession, and mail doesn't take a whole week from either of those spots.
Keeping an eye on stuff I've ordered on Etsy and from Amazon is something of a new hobby now. Normally I order stuff and don't even think about it because Amazon has been super fast since adding a dedicated daily flight to Honolulu. Now, with increased demand and strain on the warehouses, orders are prioritized based on seriousness or something, so I get some things in a few days and other take more than four or five weeks, even stuff that's ostensibly in stock.
It's a good thing, too, because I have some subscriptions on snack items I buy for the office (it's really not worth explaining), and thanks to checking order statuses a few times a day, I've been able to cancel the standing monthly orders.
Today I watched Once Upon a Time in Hollywood, which I saw in the theater (of course). I didn't love it the first time, and since I love Tarantino, I knew I had to give it a second viewing before I reviewed or rated it. I'm glad I did, because it's much better the second time. My main complaint was that the middle act was boring, something a QT film should never be, but it wasn't boring at all this second time. In fact, it was pretty darn compelling. Brad Pitt won an Oscar, but Leonardo DiCaprio and Margot Robbie put in equally admirable performances. Leo especially.
Alas, the DVD only has deleted scenes. No commentary or interviews. So I'll probably watch it once more before mailing it back. I also received this week a Korean flick, Woman on the Beach, which has been in my queue for ages, but I couldn't remember why I put it there. Films like this, about which I know nothing, are often in queue because of some beautiful actress, but the cast list doesn't reveal any familiar names. However, the Wikipedia article for director Hong Sang-soo has the answer. He directed In Another Country, a film with Isabelle Huppert I reviewed for 8Asians seven years ago! This has been in queue for seven years? Insane.
Scarfed it like it was my birthday
It was not a banner day for food consumption, depending on how you look at it I guess. In some ways it was great.
After the swim, I stopped at Megs (no apostrophe in the name, for a good reason) and picked up a grilled ahi for breakfast (I'm ravenous after a good swim) and a chicken katsu for lunch. I eat out so seldom nowadays that I feel I should spend at least $20 when I do, to help out local businesses if I can. Also: gluttony.
Dinner was cold pizza (yum!). I had a late snack of tortilla chips and fresh salsa. Notice I've been saying all week I need to eat some veggies and I still haven't. Ugh.
Although the case could be made for fresh salsa as fresh veggies. Tomato, onion, peppers. Nothing especially beneficial, but veggies still.
I hate to say this, but after two plate lunches and three days of pizza, I'm really enjoying getting takeout, and I might do it again this weekend if I can overcome my fear of humans.
Clouds on the horizon?
I don't usually use swim days as days off from walking, but I did Friday, except after I parked this morning, I walked around the block for a good 3000 steps before jumping in the water. Still, 3000 is fewer steps than I incidentally walk on a normal work day, so it doesn't really count. I'll hit the streets again Saturday.
Okay, Saturday plans. I have a few chores I'd really like to do, one of them rather unpleasant. I'm setting aside some time to read (yes, it's come to this: I have to block off time for reading — almost unheard of). I have a couple of short writing projects to get done (a couple of movie reviews and a book review) and a little bit of work on that staff newsletter. And napping, of course. Oh, and I really need to call mom and dad.
Although it was a struggle of a day, I'm feeling pretty good at 2:32 in the morning Saturday. I guess weekends can do this just by being weekends. I've had moments where I can sense a little bit of darkness creeping in on the fringes of my awareness. I see you, clouds. Just don't get any closer, and you and I will coexist peacefully.
Managing my relationship with the darkness is one reason I journal in the first place. It doesn't always work, 'though I think it's mostly working now. I hope if you're reading this and finding it difficult to stave off the black clouds, you will reach out. I don't think I'm very good at helping others through the abyss, but I can certainly sympathize. The abyss and I are long-time friends, perhaps for longer than my friendships with D and Kathy, even. I'm here if you want some company.