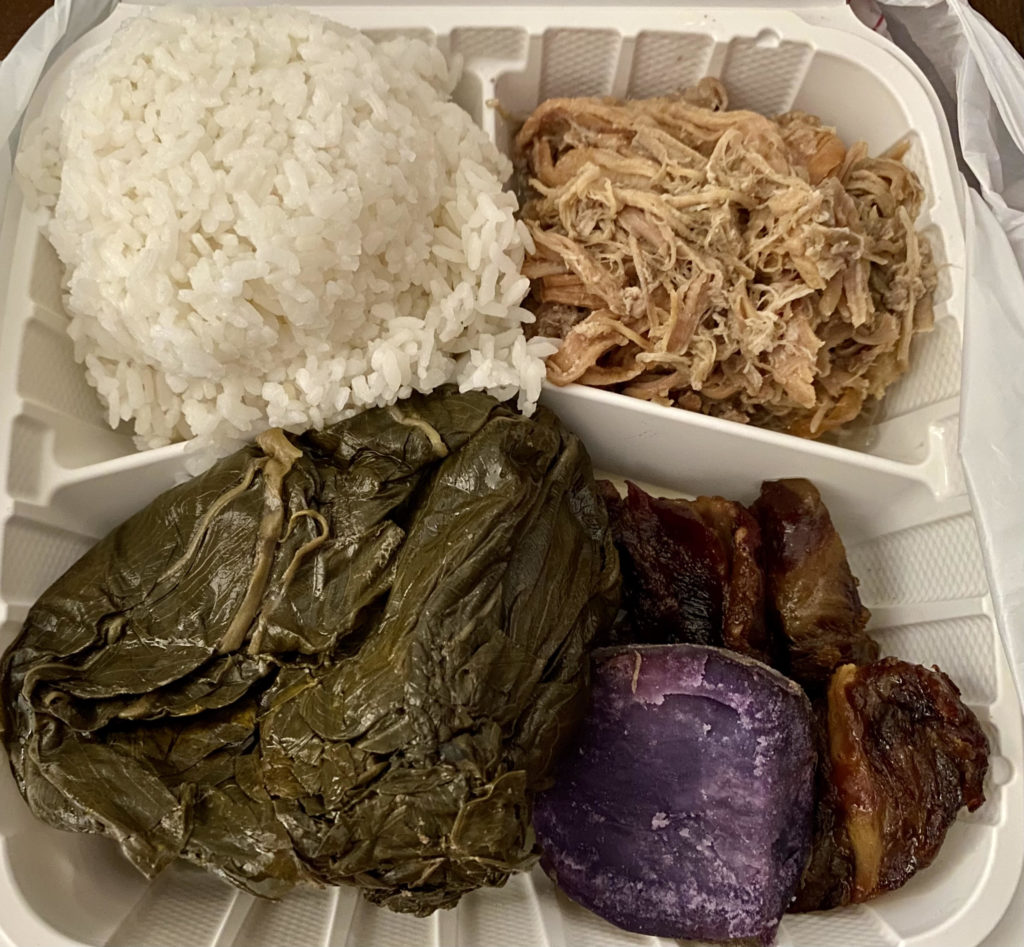 Thursday was rough. Not as rough as Wednesday, but still pretty rough, in a mellow way. Mostly I just didn't finish things I wanted to finish, but I wasn't desperate or super sleep-deprived either. Just somewhat sleep-deprived.
Honestly, it was rather slow-paced, but that was deceptive. I didn't have a deadline breathing hot fire down the back of my shirt because the deadline had already passed. I submitted my stuff, it came back to me with fix suggestions, and the fixes took long. Probably longer than they should have.
I did a few chores, watched Pitch Perfect 2, and went to bed early, hoping either to sleep well enough to go to the beach or simply to sleep well enough.
I was dying for Hawaiian food, of which I've had none since the lockdown began, so I drove to Young's in my 'hood, who has one of the two best laulaus on the island (Yama's has much better meat, but Young's is much leafier, so take your pick) and picked up an enormous pork laulau combination plate. It's a lot of heavy food. So it was breakfast and lunch, and for dinner I just had a few chips and a couple of clementines.
Ali and I did a ton of texting about her schoolwork, my writing struggles, and life in the pandemic. I sent Crush Girl a link to an article about some local places to get lobster rolls. It led to a very short conversation about which we've tried. I texted Jennifer to tell her I haven't looked at all the links she's sent me recently but I WILL DO IT SOON. Sylvia and I texted some more about her adjustmet to her new position.
In Pitch Perfect 2, Emily meets Benji and Jesse on her first day at Barden. She runs into Benji again after the weekend, right after being accepted into the Bellas at the hood party, at the Treblemakers' house, and she remembers him. "Benji, right?" she asks. But she was introduced to Benji by Jesse as Benjamin, so she's just assuming his nickname. I hate when people do this.
As long as you don't do this to me, you're welcome to connect with me if you're in need of connection. Seriously, don't be alone in this mess. Leave a comment and I'll send you contact info.