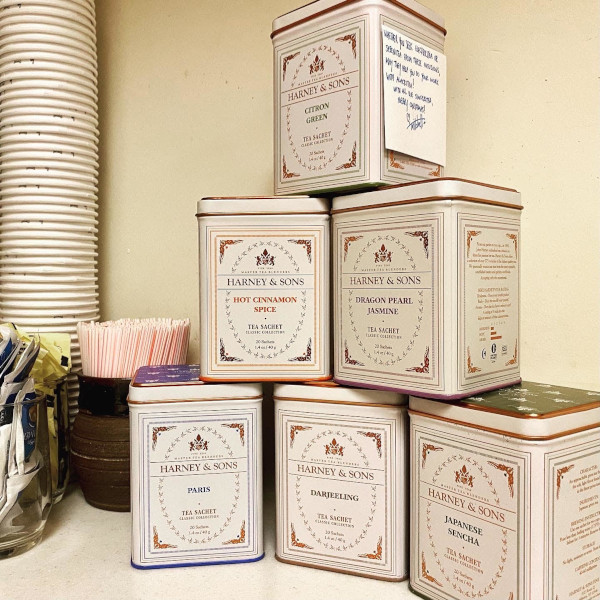 Christmas! I didn't sleep well but it was okay. I meant to hit the beach at sunrise. It didn't happen, but my brief family time would be early enough to leave plenty of room for an afternoon swim.
None of which means it was any easier getting out of bed Friday morning than every other Christmas morning of my adult life. I got the car loaded and rolling about half an hour later than planned, rolled up to the drive-through pickup at Big City Diner for the prime rib holiday meal, and got it to the parents'.
We chatted at a distance (me wearing a mask), split up the food, wished each other Merry Christmas a few times, chatted some more, and said let's do it again as soon as the world's a safer place.
I got my dad a bottle of the Balvenie 15, aged in sherry casks. Got my mom thirty pounds of premium Japanese rice. Also presented her with last year's Christmas gift. I was going to make an appointment with a dog groomer last spring (the groomer in Pearl City was booked through February) and then we got locked down. So annoying.
She seemed pleased. I'd made the appointment and driven to the groomer to pay in advance. A little bit of an inconvenience I hope pays off.
When I got home I made myself a plate and pigged out while reading the news. Took a very short nap and hit the beach, where I got a pretty good parking spot, as it was a gray, rainy day and people were packing up to go. There were a lot of people on the beach when I went in; when I got out the beach was practically empty.
I also had the ocean mostly to myself. It felt great, and I lingered a bit longer than usual.
Drove to the office. Wednesday or Thursday, my gift to the office came via FedEx, too late for officemates to appreciate it ahead of the holiday, but it's okay. It's meant to be enjoyed for some time.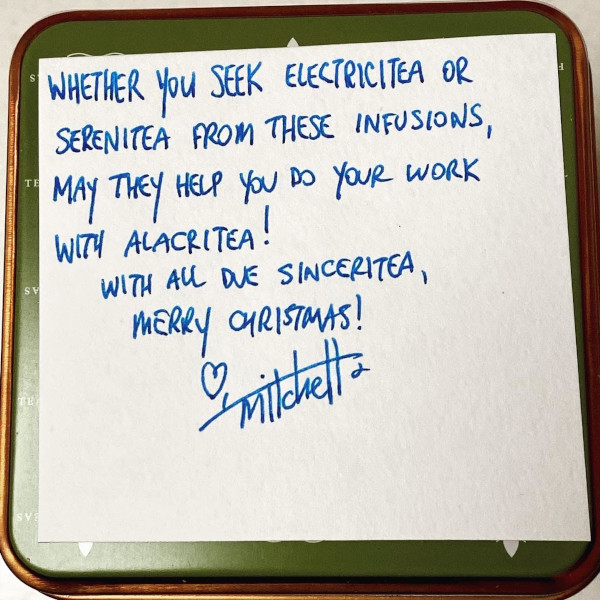 Came home. Watched Noelle one and a half times. Played around with my phone.
Oh yeah. The other early morning when I mailed some gifts, I remembered that I never gave Reid his birthday gift in July. When I ordered it, I kinda thought life would be normal again by midsummer. What a foolish man.
I had a rough idea of where I left it. Took me a little bit of time to locate it in a small plastic box of stuff I brought home from the office in August. Yay. They were face masks made from fabric supporting a certain football team I hate. I stuck that in with his and his wife's gifts and dropped it in the mail.
Christmas afternoon as I got ready to hit the beach, it hit me. The long-misplaced Kindle could very well be in that plastic box. The last time I saw it was when I took it to the office a few months ago — it's why I never purchased a replacement ('though I considered it). The only places it could be were the office, my car, my house, and the laundry. I was certain I never left it at the laundry (because I never actually took it out to read while at the laundry). It wasn't in my cubicle and it wasn't in my car.
So yeah. It was there. I spent the afternoon charging it up, then after Noelle I settled in to read. I thought starting a new book was a good way to go into the final week of the year. David Mitchell's Utopia Avenue, which I purchased the week it dropped but never got around to. I'll be happy to have it read, as I completed many books published in 2020.
It's quite good, seventy pages in. I fell asleep reading (something I almost never do with a physical book but frequently do with the Kindle) and look forward to wrapping myself up in it Saturday.
I skipped breakfast in favor of sleeping a little longer. Lunch was a hunk of prime rib, garlic mashed potatoes, green beans, garlic shrimp, and bread pudding from Big City Diner. Delicious. I got hungry again close to midnight so dinner was some Chicken McNuggets and fries from McD's.
There were the usual Merry Christmas texts from friends and relatives, including Reid, Jennifer, the writing partner, Charles the Rock, and Anto.
Ali texted me to thank me for a Kindle book I gifted her. I actually got her something I wanted to mail her, but I had a feeling she wasn't going to give up the mailing address (I've asked before, and she didn't refuse, but neither did I get the address), so a Kindle book it was. That led to some conversation about books and how we spent Christmas.
Crush Girl and I messaged sporadically through the day. It was nice; almost like spending it together in a very casual way.
I feel lucky not to have lost friends or relatives (or even acquaintances) to this stupid disease. It's been a crappy year and I've made it so far because I like being alone anyway and because I've had good friends to connect with, not in person. Don't try to go it without connections. Leave a comment and I'll reach back.