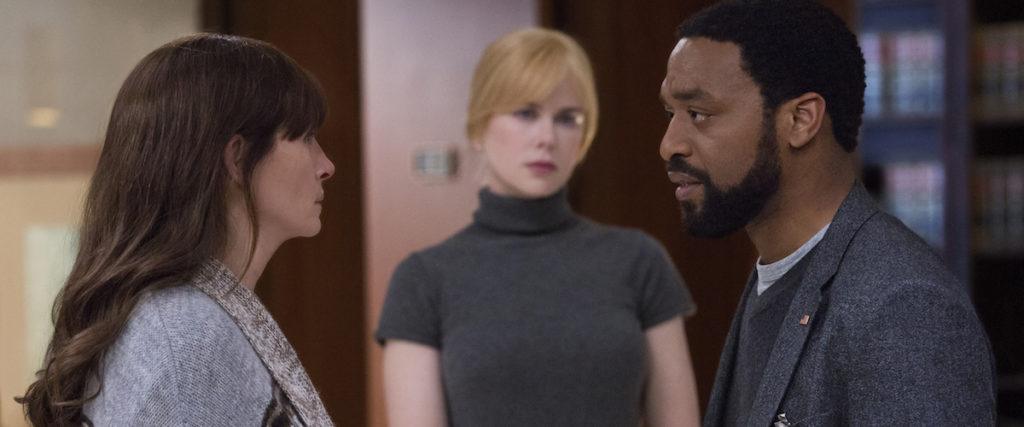 Secret in Their Eyes (2015)
Julia Roberts, Nicole Kidman, Chiwetel Ejiofor.  Written and directed by Billy Ray.
I've mentioned many times that I'm no fan of thrillers. Yet I've seen a few movies in recent years that either qualify as thrillers or were marketed this way, and I survived mostly intact. While I doubt I'll ever seek them, I think maybe for a time I will no longer avoid them if other factors draw me in.
Such as Julia Roberts.  In Secret in Their Eyes, a remake of a 2009 Argentinian movie reviewers seem to like better, Julia is out-prettied by both of her costars, Nicole Kidman and Chiwetel Ejiofor.  Kidman as a Los Angeles prosecutor is just gorgeous, equal parts uptight, straight-shooter, and professionally flirty.  Ejiofor, whom I don't think I've seen before, (edit: he was in The Martian but I don't remember him) is charismatic and handsome in a tortured way.
As most films in this genre, this one's difficult to review without giving anything away, so I'll say what I like and what I don't like as safely as possible.
The premise is intriguing.  Roberts plays a cop whose daughter is murdered.  Ejiofor is a counter-terrorism FBI agent assigned to LA to work with the police, as driven as Roberts to find the killer, but reasonable factors about the prime suspect make pursuit complicated and difficult.
However, we're meant to care about the story's relationships, and here's where the film fails.  We get barely enough of the Roberts-Ejiofor relationship to explain the characters' actions, but the Roberts-Kidman and Ejiofor-Kidman relationships are never established or developed, while certain parts of the film rely on them.
It's too bad, because the acting is very good. I don't mind where the movie goes, but I'm not given enough to embrace it or reject it, so all that's left is a kind of icky, hollow feeling and an affection for the actors.
You could do worse, but you could do a lot better.
5/10
50/100